JunkYards Near Me:

All the information you need
This site provides the detailed information from all junkyards near you, fast and just a few clicks away. Enter below an address, a ZIP code or a city name and it will show you in seconds all the local auto salvage yards that can deliver you the best used parts at the lowest prices. You can also click on the "My location" button to directly check all the vehicle recyclers near your location, sorted by distance. In addition, we offer you the option to filter only the businesses that are open at this time.
Finding the best

junkyards near you

Locating a good auto salvage yard where to buy second hand parts for your vehicle at the lowest price without waiving the corresponding warranty is not always an easy task. Under these lines we provide you a list so that you can browse the different states of the U.S. and Canada, and check which junk yards are available near your location. We always try to offer you the most verified and truthful contact information, but if you find a mistake please contact us and we will resolve it as soon as possible.

Junkyards near you in USA
---
Junkyards near you in Canada
---
Our Video Guide

to locate and purchase the best quality used parts
Find auto parts near me
Saving a few dollars in these times is something we can not miss, right? For many, going to an official car dealership to buy parts for their vehicle is not a viable option, as these are usually expensive. In my case I prefer to go to a junkyard near me, where it's possible to find what I'm looking for at much lower prices and with warranty.
Sell your junk car with us
If you have an old car in the garage that no longer works and whose repair seems too expensive, you may be losing money! Many users and salvage yards will be happy to buy your vehicle for the parts, paying you in return a good money. In our site you have both the option to sell your car by parts to other users or to contact a junkyard near you and get a cash quote.
Buy a junk car
The junk car market has grown very quickly in recent years, especially due to the economic crisis. Not everyone can change his car every 4-5 years and the option of the parts market is increasingly interesting. In our website we want to contribute a little and we give you the possibility to check the cars and the parts that our users have for sale, totally free.
Recently featured

junkyards near you where you can buy or sell used parts

There are many and very good junk yards on our directory and from here we suggest that you take advantage of the JUNKYARD SEARCH ENGINE or browse through the listings to find the nearest local businesses. Additionally, you can find below this paragraph the Recently Featured Salvage Yards Near You listing, which stand out for the quality of the used vehicle parts they sell, the warranty they offer and the customer service they deliver.
1

1. Pompano Pat's Motorcycles

910 W International Speedway Blvd, Daytona Beach

Phone number: 954-822-3971

4.8/5 - 13 reviews

In case you're in the search for the cheapest used spares near the Daytona Beach neighborhood, this junkyard is a suitable election to obtain them at a low price. You have the opportunity to contact them via: email and phone. Additional information: They're open Monday to Sunday.This salvage yard has been rated 13 times by our users.

2

2. Hunts Point Auto Parts Junkyard

565 Hunts Point Avenue, Bronx

Phone number: (718) 395-9428

4.2/5 - 10 reviews

Residents of the Bronx surroundings have the possibility to access a wide catalog of second-hand spares for their autos in this junkyard. It is possible to reach them using: email, tollfree and phone. They work from Monday to Friday.In addition, you may check 10 reviews left by our visitors.

3

3. Bethany Imports

4430 SW 134TH ST, Oklahoma City

Phone number: 405-232-4231

4.3/5 - 3 reviews

Purchasers have the possibility to locate this junkyard near the environs of the city of Oklahoma City (Oklahoma). Its central business model is the marketing of auto spares with the most reasonable prices in the state and offering all the warranties that you may expect. If you are aimed to get in touch with them, you can achieve it by these means: email, tollfree and phone. In addition, you can read 3 reviews left by other users.

4

4. Salvage Jeep Parts

2541 MILL CREEK RD, Statesboro

Phone number: 9125875918

4/5 - 2 reviews

This business aims to provide an highly efficient service at very reasonable prices, gathering a hefty breadth of inventory and with the guarantees requested by its buyers. Visitors have the opportunity to meet this junk yard in the municipality of Statesboro (Georgia). They're open Monday to Friday.Additionally, you can read 2 reviews in order to know more about this business.

5

5. AW Italian Auto Parts

120 Kremer Ave, Eatontown

Phone number: (732) 542-5600

Do you have sleeping in the garage an old car or are you looking for second-hand pieces compatible with your automobile? This directory advise you a visit to this junk yard, since it owns an extensive stock. They work from Monday to Friday.

6

6. Adrenaline Crew

1921 W 1st Ave, Mesa

Phone number: (480) 870-8640

Customers have the possibility to reach this junk yard close to the environs of the municipality of Mesa (Arizona). Its primary business area is the distribution of auto pieces with the lowest prices in the vicinity and providing all the warranties that you could wish. In case you want to reach them, you can achieve it by these means: email or phone.

7

7. American Junk Cars Orlando Florida

2319 Rabenton Rd, Deltona

Phone number: (321) 230-2022

The best method to economize hundreds of dollars on used pieces for your vehicle is by visiting a junk yard and this is a very good option in the Deltona location. More information: They're open Monday to Saturday.

8

8. Lima Auto Enterprises Inc.

W2254 Ourtown Rd, Sheboygan Falls

Phone number: 920 467-3411

The salvage yard listed here is wich operates in Sheboygan Falls (Wisconsin) and it's distributing the highest value vehicle spares to its potential purchasers in the neighborhood. In case you are aimed to request a quote for your used vehicle or request for a precise used spare, you can get in touch with them via phone.

9

9. BM Fabrications

21461 Aberdeen Street NE, Bethel

Phone number: (612) 202-9245

Do you own an old vehicle or are you immersed in the search of second hand spare parts for your automobile? We suggest a visit to this salvage yard, since it has an extensive catalog. They work from Monday to Friday.

10

10. Budget Truck Wrecking

26205 78th Ave S, Kent

Phone number: (253) 852-6363

Residents of the Kent vicinity have the opportunity to check a wide catalog of second-hand spare parts that will fit with their automobiles in this salvage yard. You can reach them via: phone. They work from Monday to Saturday.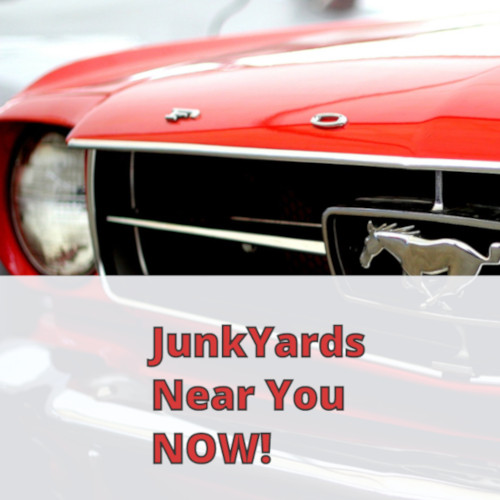 Frequently

Asked Questions
What is a junkyard?
Junkyards, also known as "salvage yards" or "wrecking yards" are the places to which vehicles out of service are taken. There are junkyards specialized in motorcycles, boats, airplanes, etc, but most of the junk yards we can find are for cars and trucks. These salvage yards usually operate locally, being the final destination of cars that are towed outside the accident site or where they stopped working.
Do junkyards buy parts?
On some occasions deposits can also buy broken down vehicles from insurance companies, owners or the same cities where the vehicles are towed. They dismantle the vehicles that buy or acquire and save the usable parts that were in good condition or that were still functional and can be used by cars of the same manufacturer or similar. Unusable metal parts are discarded or sold to companies that are responsible for recycling metals.
Does my car need a salvage title for a junkyard to buy it?
The process to give a salvage title is started by insurers when they inspect the car after an accident and they determine that they have damages that exceed 70% of the value of the car, so they declare it as a total loss. Then, the state vehicle agency issues the salvage certificate, which indicates that it cannot be driven unless it is repaired. This title at no time is responsible for giving certain privileges of car sales in a junk yard.
How much can I get for a junk car?
If you want to sell a car in a junkyard the value that is offered to you will depend on several factors, starting with the deposit you are going to offer it to and the details and characteristics of your car: year of manufacture, severity of damage received, damage to the most valuable pieces, etc. You must have all these factors in mind and very present so that they do not try to pay you much less than you could actually receive for the car.
How do I sell my car to a junkyard?
There is some documentation that must be submitted when you want to sell a car to a junk yard: National ID Card, Data sheet, Traffic permit and Fees.
How do junkyards determine my car's value?
As we briefly explain in a previous question, deposits usually buy cars that no other person would buy due to the damage they have. But many people are left in doubt of how much they will pay for their car and how they determine the value of the car.
It is important that you keep in mind that in this aspect a subjective response can be given, since factors such as the age, the model of the car, its brand, its state, the state of the pieces, etc, come into play. The truth is that until a few years ago it was really complicated to be able to buy the price offered by each deposit, since they had to go to each of them, so that they could determine the condition of the car and its parts. Or, that someone from the warehouse moved to the place where the car is located.
Fortunately, today there are different alternatives to be able to price a car online and very quickly and easily. Even in some cases this can be done by WhatsApp, although it is clear that this may have certain disadvantages in terms of reliability and safety.
To get a clearer idea of what a deposit pays for a car you can visit the deposit website and enter some of the most important information about the car in question. It will also be necessary to send some pictures of the different parts of the car so that the people in the warehouse have a clearer idea about their status. Once this is done, the deposit will contact you and give you an offer with the value of the car.
In any case, you will always be able to get an approximate idea of the market price of your vehicle and this will correspond with relative precision to the price that you will finally be offered. There are a number of online tools (some of them free) that will give you the information you may need on the approximate market value of your car, such as Edmunds or Kelley Blue Book.
Should I buy a salvage car?
This can be a good option to buy a car at a better price. However, it is important that you consider certain key points to make sure you are making a good purchase.
First, you must verify that the agency that invoices the sale corresponds to the data of the unit, in addition to that the original documents of the vehicle must be requested. On the other hand, it is also advisable to check if the car has been in a robbery investigation process and if so, that the case has already been regularized and terminated.
Finally, take care of validating the proper functioning of the car with a certified expert or a trusted person with knowledge that helps you to verify that the car you are buying is in a good condition.
On the other hand, do not forget that by buying a junk vehicle you help the environment, since you reuse materials that could have been harmful to the environment if they are not treated correctly.
What tools should I take to a junkyard?
It is important that you take the correct tools with you the day you visit the salvage yard, otherwise you may be left without getting an used part of your interest. As experts in general car mechanics, we recommend that you bring:
Pliers
Ratchets
Wrenches
Sawsall
Screw drivers
Hammer
Impact driver
Extensions
Sockets SAE and Metric
Breaker bar
Penetrating Fluid
Can the salvage yard ask me for an entry fee?
Some junkyards may require you to pay a small entrance fee (usually no more than $10) in order to enter their facilities. With this money they can cover their administrative and maintenance costs and ensure that they receive customers who are truly interested in parts.
Is it possible to negotiate with a salvage yard for the prices of the parts?
It is normal to find prices already fixed for the most basic parts of the vehicle, such as transmissions, mirrors, alternators... In these cases, the negotiation is going to be quite difficult. However, regular customers of the junkyard or those who buy several pieces at the same time can get some discounts if they try to bargain.
What is the origin of the vehicles that are usually found in salvage yards?
Junkyards usually gather vehicles from the most diverse origins, in some cases you will be surprised:
Vehicle auctions
General owners who want to dispose of their vehicle
Cars from accidents sent by insurance companies
Police impounds
Businesses that cease their activity