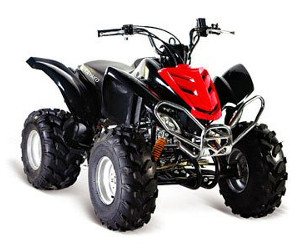 We provide thousands of Used ATV Parts instantly searchable. Find here used, cheap & second hand pieces for your atv or quad bike. Navigate our website through the lists or try the ATV Salvage Yards search engine in order to find nearby providers offering the quad bike and atv spares you are looking for.
Looking for a specific quad bike part? You are in the right place! Check the web or speak directly with our salvage yards experts, don't waste any more time!
Top 10 ATV Salvage Yards in USA
Find here the most voted ATV parts junk yards by main city. Are you looking for a specific used quad bike piece? Feel free to use our search engine!
1

1. Harbor Salvage Company Inc

1060 State Route 105, Aberdeen

5/5 - 6 reviews

The business we show here is situated near Aberdeen (Washington) and it's delivering the best performance auto parts to its potential customers near the proximity. In case you are aimed to request an estimation for your used vehicle or plead for a precise used spare-part, please get in touch with them via email and phone. Additionally, you can read 6 reviews left by other users.

---

R J.

Overheated truck

My truck overheated on my way to Westport WA. I had my fluids and didn't get my radiator cap back on tightly. A gentleman from the salvage yard came down assist...

---

Jeremy

They are awesome!

They are so willing to go completely out of their way to satisfy costumers. They even do mechanic work on top of everything. They are a small town business and...

2

2. Mid South Motorcycle Salvage

211 Montvue Ave, Morristown

4.8/5 - 5 reviews

Neighbors of the Morristown neighborhood have the possibility to purchase an enormous supply of junk parts compatible with their automobiles in this junkyard. You can get in touch with them using: phone, tollfree and email. The Mid South Motorcycle Salvage is open Monday to Saturday.This business has been rated 5 times by our users.

---

Brendan

Always a great Resource

Have known these guys since their earliest location in 1974. Over the years have always had good, fair dealings w/ Jim, JB and Jim Jr. Hopefully they will be around...

---

James O.

Excellent place

Excellent place to find the part your looking for, or something close to it. Fair prices and lot to chose from. Motor cycles, dirt bike, 4 wheeler and 3 wheeler...

3

3. Lemon & Barrett ATV Powersports

178 Pettyville Rd, Mineral Wells

5/5 - 3 reviews

The business you are looking here is settled in Mineral Wells (West Virginia) and it's distributing the greatest quality vehicle spares to its potential visitors near the neighborhood. If you need to request a valuation for your junk auto or request for a particular junk piece, you can contact them via email or phone. This business has been rated 3 times by previous visitors.

---

Stan M.

Best ever

Recently purchased my Talon 1000x4 from this dealership. Hands down best dealer I have ever work with. From the sales staff to finance and to look over everything...

---

Braiden T.

They're the best

Donny Morgan is the best! he did everything he could to help me to the best of his ability! very honest and helpful sales person! finance manager was great too!.

4

4. K&K Craft Worx.

1 Ulster rd ulster pa, Ulster

5/5 - 5 reviews

The junk yard we display here is located near Ulster (Pennsylvania) and it's providing the best condition vehicle pieces to its eventual visitors close to the environs. If you want to inquire an estimation for your old automobile or request for a specific junk spare-part, you can contact them via email or phone. Other visitors have left 5 opinions about this junk yard.

---

Jake B.

Great service and great owner!

Very responsive and and great customer service. You can tell he has a great passion for his craft! I needed a head gasket and 2 front struts and couldn't find...

---

Ryno

Saved me a ton of cash

When I sideswiped my Chevy cobalt about a month ago Korey was right there he help me get the parts I needed to get it fixed couldn't ask for better service.

5

5. Partsbyus

199 west stiegel street building c-d, Manheim

5/5 - 3 reviews

The ideal technique to avoid wasting hundreds of dollars on used parts suitable for your vehicle is to contact a junkyard and this is a great pick close to the Manheim area. The Partsbyus is open Monday to Saturday.Additionally, you can check 3 opinions in order to know more about this business.

---

Carlin B.

Lookin for

Interior door panels for VW GTI MK4. preferably the leather ones. if the panels are messed up I need not broken clips as well.

---

Patti

Exceptional Service!

We recently purchased two hard to find wheels from partsbyus. The quality and price were great and Hector's responsiveness and service was exceptional! This is...

6

6. Pfeiffer One Stop

3705 N SAINT LOUIS, Batesville

4.3/5 - 3 reviews open now

This salvage yard aims to deliver a very specialized and efficient service at the best prices, with an extensive diversity of supply but without giving up the warranties expected by its customers. Users have the opportunity to reach this junkyard in the city of Batesville (Arkansas). Additional info: The Pfeiffer One Stop is open from Monday to Sunday.Other visitors have left 3 opinions about this junk yard.

---

David R.

Parts not ready

Called a week in advance but when arrived to pick up they were not even pulled had to do it myself and still gat charged same price.

---

Crystal D.

Had basically everything for any vehicle!

My husband and I've been going to this place to get any vehicle parts and they either have them or get them quickly! Very nice and respectful.

7

7. Art's Snowmobile Salvage & ATV

Cornell

4/5 - 6 reviews

Do you have an aged vehicle or are you immersed in the search of used spare parts for your auto? This site suggest to approach this junk yard, since it has a huge catalog. This business has been rated 6 times by previous users.

---

Randy H.

Snowmobile for salvage

This sled ran great two yrs ago but it sat due to no snow to ride on? This has to be be worth something? Do you pick up? Make me an offer! Randy.

---

Marlin C.

Helpful knowledgeable guys

They want to help you however they can. They have always helped us over the years.

8

8. A & A Auto Salvage Inc

3685 North U.S. 1, Fort Pierce

4.5/5 - 2 reviews

This business placed in the municipality of Fort Pierce (Florida), distributes a very specialized and qualified service to its clients, with tremendous discounts but without giving up the best quality and a wide depht of supply. More information: They work from Monday to Saturday.This salvage yard has been voted 2 times by previous visitors.

---

Ojemeri

Viewing car

How can I see the car that are for sale?.

---

Gregg S.

1990-1992 Lincoln Mark VII

I am looking for two 16 in Mark VII LSC basketweave style factory wheels. Please email f you have these, the condition and what you want for the wheels Thanks.

9

9. THE OLD BIKE SHOP

30 HIGHWAY 29N, Lewisville

4/5 - 1 reviews

The junkyard we display here is located near Lewisville (Arkansas) and it's providing the best value vehicle pieces to its possible purchasers near the neighborhood. In case you are aimed to demand a quote for your used vehicle or request for a particular second-hand spare, please get in touch with them using email or phone. Other visitors have shared 1 thoughts about this salvage yard.

---

Mama N.

Purchase Order

Dear Customer, We are interested in purchasing some of your products to Cook Island, can you send us a complete catalog or website? also be informed that our mode...

10

10. Moto Pros Cycle Salvage

27064 KATIE RD STE C TEA, SD 57064, Tea

2/5 - 1 reviews

Buyers can talk with the attentive managers of this wrecking yard by these methods: email or phone. In order to obtain the best quality auto spares in the town of Tea (South Dakota), they are an inescapable choice. They're open from Monday to Friday.This junk yard has been voted 1 times by previous visitors.

---

Brian W.

1978 Honda XL125A

Am looking for a muffler to a 1978 Honda XL125A (4-stroke). I realize NOS or OEM are about non-existent, so am wondering if you have something that is good in used...
Search ATV Pieces in all US States
Browse the list below if you want to search ATV parts and quad bike pieces by state in our website. Then, you will access all the dealers available near the chosen state.
ATV & Quad Bike Parts by Main City
The list below provides the top locations with atv parts salvage yards available in our database. On the next screen you will see all the providers found near the selected city.
TIPS ON ATV PARTS
Check the reputation of the business
Wrecking yards that sell good quality used ATV spare-parts regularly have good online trust. With some querys on Google search you can find if the business gathers positive reviews from other buyers. You have the option to also inquire coworkers and family who have had experience purchasing at these centers.
Don't run out of savings for your ATV
Maintaining your ATV in perfect condition could cost a lot of dollars if you get new OEM spare parts. On the other hand, it's much less expensive when you buy second-hand spares from reliable providers. It is about many hundreds of dollars of savings in some situations. It's more astute to be calm and seek until you locate the piece you need at the fairest price and with a guarantee.
Choose well a place to buy
Today it is really fast to find good junk ATV pieces. You have the possibility to buy them at authorized recycling centers, specialized wrecking yards or even online distributors.
What we advise you from this portal is that, before buying spares anywhere, review the prices in the vicinity for that spare you need, comparing to be sure what you'll have to pay at the end. Do not be ashamed to call all the salvage yards in your area, your bank account will benefit from this decision.
If you lastly make the decision of buying in a classic junk yard, know that it's not a bad idea to haggle a bit on the price, always showing respect and deference.
Acquiring junk parts online
It's vital to be careful when purchasing online, and even more so when it comes to junk spare-parts that can fit your ATV. In some situations, the piece that is shown in the image is not the one that lastly will arrive to your door. Do not be afraid to call the distributor to make sure that the part you're purchasing is going to work without problems on your ATV.
The most rational suggestion is to always ask before buying, check with your friends and other known people and do not hesitate to read all the online valuations you can.
How much money can you avoid spending by purchasing second hand ATV pieces
Obtaining second-hand ATV spares can save you a lot of money, but it's fundamental to do the calculations accurately before you go to the junyard. The best plan to do this is to prepare the convenient price comparisons.
One way can be to find the price of the brand-new spare that you need and put it as a reference price to know how much money you save from it. After this the optimal would be to gather prices from the nearest salvage yards and recyclers to compare with that initial price and check how much will you finally save.
This technique is especially favorable for your economy because the used spares are not always low-priced than the new ones. Usually you can compensate more by buying something new for only a couple of dollars more.