Triple T Salvage

JunkYard
Cartwright, Oklahoma
Want to ADVERTISE this business?
Last update on August 21, 2014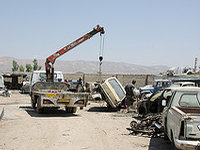 If you are looking for junk spares for your autos at the lowest prices and with great warranties in the area of Cartwright (Oklahoma), this junk yard surely has what you need. Its business model focuses on the distribution of classic parts, motorcycle parts, scrap metal, truck parts, snowmobile parts, atv parts, rv parts, car parts and cash for junk car, always with the most strict quality control. You can additionally inquire them if you need a valuation of your junk auto or if you are interested in buying a junk auto at a low price. It is feasible to contact them by these means: phone, tollfree and email. Additional info: The Triple T Salvage opening schedule information is not available so far.
What you can find: classic parts motorcycle parts scrap metal truck parts snowmobile parts atv parts rv parts car parts cash for junk car
USA, Oklahoma, Bryan, Cartwright
questions@tripletsalvage.com
Triple T Salvage Schedule
Share your opinion! Review Triple T Salvage now
---
Junkyards near Cartwright
Find here additional salvage yards in the vicinity of Cartwright (Oklahoma):