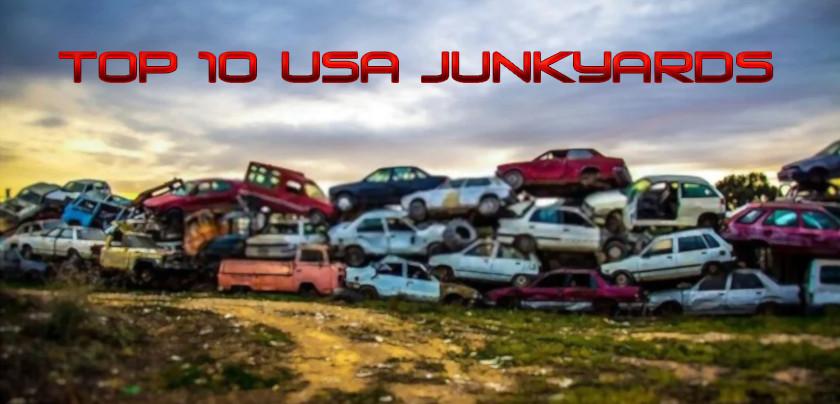 For many people, the fact of visiting a junkyard can be a bad thing, since this place is full of garbage. but on the other hand, for those who like cars, going to a salvage yard can be a very nice adventure. Nearly thirteen million vehicles are recycled in the United States each year. And most of the junkyards are located on the outskirts of the cities, since they have a high degree of pollution.
The first salvage yard I'm going to talk about is French Lake Auto Parts, which is in Minnesota and has been operating for more than fifty years. This business receives an average of ten thousand cars per day. And most of these cars are usually used to remove the parts, or simply repair the autos and sell them again. This large junkyard has vehicles from the twenties of various brands, they have a special area for these autos, so if you like old cars I assure you that this salvage yard is perfect for finding those types of parts.
The second scrapyard is the Wildcat Auto Wrecking. It is located in Oregon. This business focuses on cars and parts of the Chrysler model. It is the only scrap yard specialized in a car brand. He has over eight hundred cars on his property. This salvage yard has been known since the fifties for its bodywork, as it is in perfect condition.
The third scrapyard is CTC Auto Ranch located in Texas. This junkyard specializes in muscle cars from the sixties and seventies and is one of the most popular junkyards in the country. Thanks to the climate there in Texas, the bodywork of the cars does not rust and is usually perfect. They have more than four thousand cars and this number changes every day.
The fourth salvage yard is Turner's Auto Wrecking, located in California. This salvage yard began in the thirties and appeared in several TV series due to its great impact. This junkyard has more than a hundred hectares of old cars and parts for them, and is a paradise for any motor lover. If you are looking for an old part for your car, you may find it in this wrecking yard.
The fifth scrapyard is All Bikes Salvage Yard in Arizona. It was one of the largest motorcycle junkyards in the world, it had everything. But unfortunately nine years ago it suffered a fire that destroyed almost ten thousand motorcycles. However, this business has been revived recently. Although they have far fewer motorcycles.
The sixth scrapyard is Pinal Airpark in Arizona. This scrapyard is an aircraft. Most of the planes that are in this salvage yard have never flown. And they are here because maybe they could not be finished because they are missing a piece or the buyer did not want it in the end. That is why there are certain planes in this junkyard that may take to the air in a few years.
The seventh is Old Car City U.S.A. in Georgia. This is one of the most famous in the world. This salvage yard has more than four thousand cars in thirty hectares. That is usually visited by students, to see the cars but also for the nature behind it. The owner of this junkyard makes you pay for visits and every photo you take.
The eighth junkyard is Stephens Performance Salvage Yard located in Alabama. This junkyard has a lot of cars, but is known for its Dodges. This salvage yard has been selling cars and parts for more than forty years and if you like the Chargers of the sixties, I assure you that going to this junkyard will be a fantasy for you.
The penultimate wrecking yard is Mojave Air and Space Port which is in California. This is like a working spaceport apart from the airport they have parked planes and they have their own restaurant so you can eat while watching the planes.
And the tenth and last scrapyard is Corvair Ranch which is in Pennsylvania. This junkyard has many different Corvair model bodies and provides more than six hundred vehicles. This salvage yard also offers to fix or restore your Corvair.
Once you know the largest salvage yards in the United States, I am sure that now you want to visit one of them. Which do you think is the best? Without a doubt, the most interesting one seems to me to be the Pinal Airpark in Arizona, because I personally love airplanes.
Comments