Last update on November 1, 2022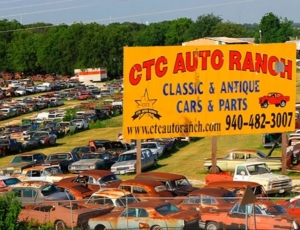 Owners who are interested in businesses focused on the distribution of truck parts, car parts or classic parts in the vicinity of Denton (Texas), here they´ve an option that will not disappoint. These are professionals who deeply review the junk auto spares they distribute and offer the expected guarantees, so you can buy them with absolute security. If you are aimed to contact them, you can do so: phone and email. Detailed info: The CTC Auto Ranch is open Monday to Friday.
What they sell:
car parts classic parts truck parts
USA, Texas, Denton, Denton
3077 Memory Ln, Denton, TX (Zipcode: 76207)
Business Hours
CTC Auto Ranch on YouTube
Place here your review below!
Need used parts? Submit your parts request for a quote
Improve your sales with us!
More than 1,000,000 monthly visitors
We could not call ourselves the best junk yard repository on internet for the United States if we didn't provide you some additional features in order to help you in your search for junk spare parts.
Browse this list (which is arranged from closest to farthest) for more junk yards near the area of Denton (Texas).
1

1. Simpsons Wrecker Service

5075 Barthold Rd, Denton

This junkyard placed in the town of Denton (Texas), distributes an highly qualified service to its shoppers, offering incredible discounts but with the highest excellency and an extensive variety of inventory. They're open from Monday to Friday.This business has been rated 2 times by our users.

2

2. Miller Ronny Auto Sales

121 E College St, Lewisville

23.5 miles

You can economize large amounts of money on the maintenance of your well-liked car by acquiring second-hand pieces without giving up the necessary warranties in this leading in Lewisville surroundings junkyard. More information: The Miller Ronny Auto Sales timetable info is not available, despite this you can visit their web.

3

3. North Texas Auto Recyclers

1914 E State Highway 121, The Colony

26.9 miles

Citizens of the The Colony area have the opportunity to check an immense supply of second-hand spares for their vehicles in this salvage yard. You can get in touch with them via: phone. Additional information: This salvage yard opening hours info cannot be found yet.

4

4. Car-Smart Auto Parts

Valley View

30.2 miles

This junk yard located close to the municipality of Valley View (Texas), distributes an highly competent service to its customers, with attractive bargains but without giving up the best excellency and a massive variety of supply.

5

5. American Tower Corp.

4130 Griffin Rd, Frisco

30.8 miles

Neighbors of the Frisco vicinity can purchase an immense catalog of second hand spares compatible with their cars in this wrecking yard. It is possible to reach them using: phone. This junk yard schedule information does not appear in our database, however, you have the option to check its website.

6

6. Graham Wrecker Service Inc.

1811 N Broadway St, Carrollton

34 miles

This salvage yard aims to provide an highly qualified assistance at incredible prices, gathering an immense breadth of catalog and with the guarantees demanded by its purchasers. Visitors can find this business near the municipality of Carrollton (Texas). The Graham Wrecker Service Inc. timetable information is not available but you can see their web.

7

7. Heb Wrecker Service

4020 Flory St, North Richland Hills

39.7 miles

This junkyard wants to deliver a very proficient service at very reasonable prices, with an immense variety of supply and with the warranties requested by its clients. Users can locate this junkyard in the municipality of North Richland Hills (Texas). The Heb Wrecker Service schedule information is not available, despite this you can see its web.

8

8. Carter Salvage

Plano

41 miles

Are you the owner of an old vehicle or are you trying hard to locate used parts compatible with your auto? This site recommend to approach this junk yard, since it has an immense stock. This business has been voted 1 times by our visitors.

9

9. Marions Wrecker Service

6500 Mesquite Trl, Plano

41 miles

This junkyard placed in the surroundings of Plano (Texas), delivers an highly competent service to its customers, offering surprising bargains but without giving up the expected excellency and an extensive depht of inventory. The Marions Wrecker Service schedule info cannot be found, despite this you can see its website.

10

10. Plano Used Cars

1608 14th St, Plano

41 miles

This junkyard wants to provide a very specialized and skilled service at incredible prices, gathering an extensive diversity of inventory and with the warranties expected by its buyers. You have the possibility to reach this junk yard near the town of Plano (Texas). They work from Monday to Friday.