Last update on December 29, 2015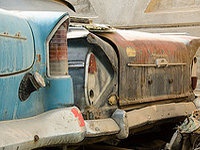 In case aimed to look for second-hand spares compatible with your car at the most competitive prices and with good guarantees near the area of Oyen (Alberta), this junk yard certainly has what you want. Its business area targets on the delivery of truck parts, always including the most rigorous quality supervision. You can additionally ask them if you need a valuation of your junk vehicle or if you´re interested in buying a junk vehicle at a great price. It´s possible to get in touch with them by these means: phone or email. Additional info: The VS Truck Works Inc. operating schedule info isn't offered so far.
Their business model:
truck parts
Box 476, Oyen, AB (Zipcode: TOJ 2JO)
Operating Hours
VS Truck Works Inc. Comments
Leave your comments below!
Need used parts? Submit your parts request for a quote
Improve your sales with us!
More than 1,000,000 monthly visitors
This section pretends to provide you something else, as added to the contact information of this junk yard. We work to give our users more search options with the goal that you can find the best used pieces as soon as possible. This listing is organized from nearest to furthest from this municipality.
Check here other junk yards near the vicinity of Oyen (Alberta):
1

1. Flatla Auto Wrecking

R.R.1, Tilley

81.7 miles

The proper technique to save large amounts of money on second hand parts suitable for your car is by visiting a wrecking yard and this is a great option in the Tilley location. This salvage yard has been voted 1 times by previous users.

2

2. Alberta Auto Wreckers

41 Industrial Dr. S.E., Redcliff

89.8 miles

You can avoid wasting hundreds of dollars on the conservation of your beloved automobile by purchasing used pieces without giving up the minimal warranties in this well-known in Redcliff neighborhood wrecking yard. The Alberta Auto Wreckers timetable information cannot be found but you can see its web.

3

3. Valley Auto Recyclers Ltd. – Drumheller

900 Premier Way Box 1717, Drumheller

96.8 miles

If you are in the task of looking for the best used parts in the Drumheller surroundings, this business is an ideal pick to obtain them at a low price. Feel free to contact them using: phone or email.