Marshall Auto Wreckers Ltd
Marshall Auto Wreckers Ltd

JunkYard
Lethbridge, Alberta
Want to ADVERTISE this business?
Last update on December 29, 2015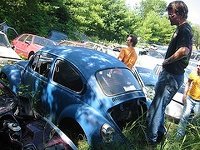 Placed in the vicinity of Lethbridge (Alberta), this junk yard is providing car parts to its potential purchasers. If you want to inquire about any spare parts, estimated junk car value, buy or sell scrap cars, you can contact them via phone and email. The Marshall Auto Wreckers Ltd opening schedule information is not present yet but you can review its website.
What you can find: car parts
Canada, Alberta, Lethbridge
90069 Range Road 212, Lethbridge, AB (Zipcode: T1J 3Z8)
Marshall Auto Wreckers Ltd Schedule
Marshall Auto Wreckers Ltd Reviews
Leave your opinion! Review Marshall Auto Wreckers Ltd now
Latest blog posts that may be of your interest
Junkyards near Lethbridge
This list contains more junk yards in the neighborhood of Lethbridge (Alberta):
Closest Junk Yards to Lethbridge
Address
Stewart Industrial Park, Lethbridge
Neighbors of the Lethbridge area can access a huge catalog of used parts for their vehicles in this salvage yard. You can get in touch with them via: email, phone or tollfree. More information: The Lethbridge Auto Parts opening schedule info is not present yet but you can check its website.
238 - 31 Street, Lethbridge
Do you own an old vehicle or are you immersed in the search for second-hand pieces for your auto? We advise you to approach this salvage yard, since it delivers a huge inventory. Additional information: The Useable Used Auto Part timetable information is not included so far but you can check its website.