Flatla Auto Wrecking

JunkYard
Tilley, Alberta
Want to ADVERTISE this business?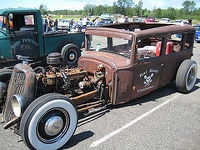 Visitors can visit this wrecking yard in the area of Tilley (Alberta). It delivers car parts to its clients. If you want to inquire about any spare parts, estimated junk car value, sell or buy junk car, you can get in touch with the dealer via phone and email. The Flatla Auto Wrecking business schedule information is not present so far.
What you can find: car parts
R.R.1, Tilley, AB (Zipcode: TOJ 3KO)
flatlaautowrecking@gmail.com
Flatla Auto Wrecking Schedule
Flatla Auto Wrecking Reviews
Leave your opinion! Review Flatla Auto Wrecking now
Latest blog posts that may be of your interest
Junkyards near Tilley
Find below more junk yards in the vicinity of Tilley (Alberta):
Closest Junk Yards to Tilley
Address
41 Industrial Dr. S.E., Redcliff
The best method to economize hundreds of dollars on second-hand parts for your car is by approaching a vehicle wrecking yard, and this is an excellent choice in the Redcliff neighborhood.