Last update on December 29, 2015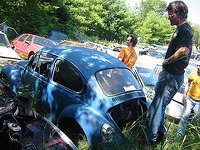 Located in the vicinity of Drumheller (Alberta), this business is providing scrap metal and car parts to its potential visitors. In order to ask on any spare parts, estimated junk car value, acquire or trade scrap cars, you´ve the opportunity to reach them via phone and email. The Valley Auto Recyclers Ltd. – Drumheller opening schedule information isn't available so far.
What you can find:
scrap metal car parts
Canada, Alberta, Drumheller
900 Premier Way Box 1717, Drumheller, AB (Zipcode: T0J 0Y0)
Operating Hours
Want to sell your junk car for cash?
If you want to swiftly sell your used auto and get top dollar cash for it, then you have arrived at the appropriate location.
Fill out the step-by-step form in under 2 minutes by providing the details regarding your vehicle.
Receive the purchase offer for your vehicle right away and with no obligation. Discover the amount you will receive for your vehicle.
Get instant payment and benefit from the advantage of free towing service. Get rid of your vehicle with no worries, since it will be retrieved from wherever at no additional cost.
Valley Auto Recyclers Ltd. – Drumheller Reviews
Place here your opinion below!
Need used parts? Submit your parts request for a quote
Improve your sales with us!
More than 1,000,000 monthly visitors
There exist a vast mixture of makes and models for sale, so there's a possibility that you won't find the junk pieces you are looking for in this junkyard, despite its impressive catalogue. Don't worry, we have already thought about that and found other centers for you nearby.
This list (which is arranged from closest to furthest) provides more salvage yards in the neighborhood of Drumheller (Alberta):
1

1. Eagle Head Auto Parts

704 Westridge Road, Strathmore

40.8 miles

Visitors have the possibility to locate this junk yard close to the proximity of the town of Strathmore (Alberta). Its major business model is the sale of vehicle pieces with the best prices in the surroundings but without giving up all the warranties that you could request. If you need to contact them, you can achieve this this way: email or phone.

2

2. All in One Auto Parts

Highway 1/Highway 561 RR 1, S-13, Box 37, Strathmore

40.8 miles

This junkyard wants to provide a very efficient service at great prices, gathering a wide breadth of inventory and with the guarantees expected by its buyers. You have the possibility to reach this wrecking yard near the town of Strathmore (Alberta).

3

3. Sunlight Auto Parts

P.O. Box 573, 1126 Twp Rd 294, Crossfield

57.1 miles

This business located in the municipality of Crossfield (Alberta), delivers a very efficient service to its clients, offering excellent bargains but with the highest excellency and an immense depht of catalog. More info: This junk yard schedule information cannot be found, however, you have the option to visit its website.

4

4. AIRDRIE AUTO PARTS & RECYCLING

300-104 EAST LAKE BV NE AIRDRIE, AB, Airdrie

58.2 miles

If you are in the search for the highest quality second hand parts in the Airdrie neighborhood, this junkyard is a perfect choice to obtain them at a great price. You have the possibility to contact them via: phone or email. They work from Monday to Saturday.In addition, you can read 1 thoughts in order to know more about this business.

5

5. A-1 Parts For Less

7320-36 St. N.E., Calgary

65.9 miles

The finest method to save hundreds of dollars on second hand parts suitable for your automobile is to contact a junk yard and this is an attractive pick in the Calgary zone. This salvage yard has been rated 1 times by our visitors.

6

6. Forest Lawn Parts Depot

4215-35 St. S.E., Calgary

65.9 miles

This junk yard wich operates near the municipality of Calgary (Alberta), provides a very competent service to its customers, offering surprising bargains but with the best quality and an immense diversity of supply. More info: This salvage yard operational hours information is not available yet.

7

7. Brar Brother Auto Parts

7123 40th street north east calgary, Calgary

65.9 miles

The junkyard you are looking here is placed close to Calgary (Alberta) and it's distributing the highest condition vehicle spares to its eventual buyers near the vicinity. If you are aimed to inquire a quote for your old vehicle or request for a particular used piece, feel free to contact them via email or phone. In addition, you may read 2 opinions left by our visitors.

8

8. KLEAN MOTORS INC

1600 144 4 Ave SW, Calgary AB, Calgary

65.9 miles

The best approach to avoid wasting large amounts of money on second-hand pieces for your vehicle is to contact a salvage yard and this is a very good election in the Calgary neighborhood. The KLEAN MOTORS INC is open Monday to Saturday.

9

9. Western Auto & Truck Parts

2602- 52nd Street SE, Calgary

65.9 miles

Do you own a decrepit car or are you immersed in the search of second hand spare-parts for your automobile? We suggest a visit to this salvage yard, since it delivers an enormous inventory.

10

10. P&S Auto Parts & Service

6728-36 St. N.E., Calgary

65.9 miles

Are you the owner of a junk vehicle or are you trying hard to locate used spare parts for your auto? We suggest to approach this salvage yard, since it gathers an enormous inventory.