Last update on December 29, 2015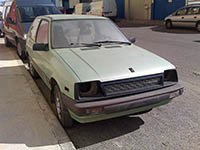 Buyers have the opportunity to visit this junk yard close to the area of Battleford (Saskatchewan). This business delivers to its customers. If you are aimed to ask about any second-hand parts, junk car value estimation, get cash for junk autos or junk cars for sale, you can contact the business by using tollfree or phone. The SGI North Battleford Salvage opening schedule info isn't present yet.
What you can find:
Canada, Saskatchewan, Battleford
11302 6th Avenue North, Battleford, SK (Zipcode: S9A 0M3)
Operating Hours
SGI North Battleford Salvage Reviews
Place here your review now!
Need used parts? Submit your parts request for a quote
Improve your sales with us!
More than 1,000,000 monthly visitors
This page pretends to provide you a little more, apart from the contact information of this salvage yard. We try to show you more search possibilities with the goal that you can find the cheaper junk spares as soon as possible. This list is sorted from nearest to farthest from this city.
Check here more junkyards in the surroundings of Battleford (Saskatchewan):