SGI Saskatoon Salvage

JunkYard
Saskatoon, Saskatchewan
Want to ADVERTISE this business?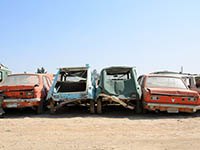 If you are looking for used pieces for your car at the best prices and with good warranties in the vicinity of Saskatoon (Saskatchewan), this junk yard surely provides what you need. Its business area focuses on the delivery of , always with the most strict quality control. You can additionally inquire them if you need a quote for your junk car or if you are interested in buying a junk auto at a good price. It is possible to contact them by these methods: tollfree or phone. Additional information: The SGI Saskatoon Salvage business hours information is not present so far.
What you can find:
Canada, Saskatchewan, Saskatoon
110 English Crescent, Saskatoon, SK (Zipcode: S7K 8A5)
SGI Saskatoon Salvage Schedule
SGI Saskatoon Salvage Reviews
Leave your opinion! Review SGI Saskatoon Salvage now
Latest blog posts that may be of your interest
Junkyards near Saskatoon
Find below other wrecking yards in the vicinity of Saskatoon (Saskatchewan):
Closest Junk Yards to Saskatoon
Address
Distance
1920 Quebec Avenue, Saskatoon
If you are looking for the best used parts in the Saskatoon surroundings, this salvage yard is an excellent option to purchase them at a great price. You can contact them using: phone or email. Additional information: The Affiliated Auto Wrecking timetable information is not available yet.
905 Dufferin Ave, Saskatoon
It's easy to save hundreds of dollars on the reparation of your loved auto by purchasing second-hand spares with guarantee in this leading in Saskatoon neighborhood junk yard. More info: The Brock Salvage timetable information is not available so far, however, you can review its website.
Box 58, Clavet
21.5 miles
The finest method to economize hundreds of dollars on second-hand parts for your auto is by approaching a vehicle wrecking yard, and this is an excellent choice in the Clavet neighborhood.