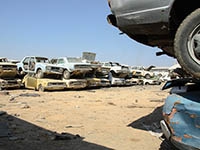 Close to the surroundings of Saskatoon (Saskatchewan) is stablished this junk yard, which is ideal for users looking to purchase the best second-hand spare parts compatible with their vehicles, but without having to invest large amounts of dollars. Here you´ll be able to find without giving up the best warranties in the sector and great customer service. In case you want to contact them, you can do so: phone or email. Detailed information: The Affiliated Auto Wrecking opening schedule information is not included yet.
Canada, Saskatchewan, Saskatoon
1920 Quebec Avenue, Saskatoon S7K 1W1
Need used parts? Submit your parts request for a quote
There is a huge mixture of makes and models for sale, so there is a probability that you won't locate the junk pieces you are looking for in this wrecking yard, despite its impressive catalogue. Don't worry, we've thought of everything and gathered other centers for you very close.
This list (which is sorted from nearest to farthest) gathers additional salvage yards near the surroundings of Saskatoon (Saskatchewan):