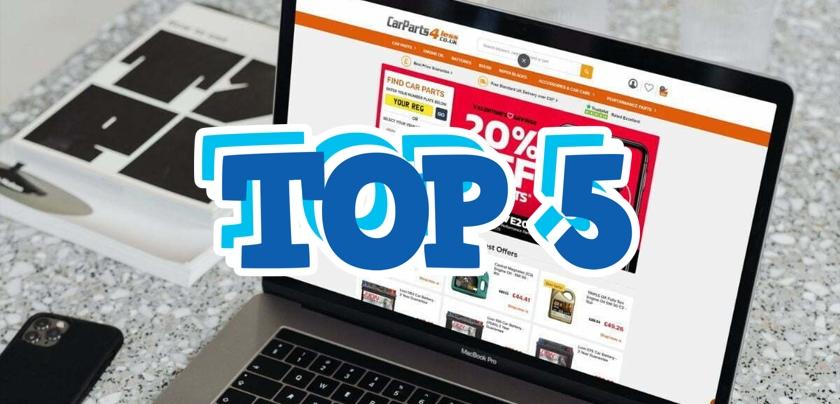 Not everyone has the time to go to a physical store to buy new parts for their vehicle. In these cases, the best thing to do is usually browse the huge catalogs of the most recognized online stores in the United States. In this way you can receive the piece you are looking for at your door, on many occasions even with free shipping costs. Check the list that we offer you below to know our TOP 5 car parts websites.


1. RockAuto

RockAuto is a well-known online retailer that offers a vast selection of auto parts for various makes and models. They provide customers with a wide range of options and competitive prices. The website is user-friendly and features a comprehensive catalog, making it easy to find the parts you need.


2. AutoZone
AutoZone is a popular retail chain that also operates a user-friendly online platform. They offer a wide range of auto parts, accessories, tools, and fluids. The website provides helpful guides, repair information, and in-store pickup options, making it convenient for customers.


3. Advance Auto Parts
Advance Auto Parts is another major auto parts retailer with an extensive online presence. Their website features a variety of products, from replacement parts to performance accessories. Advance Auto Parts often provides discounts, promotions, and a loyalty program for additional savings.


4. Summit Racing
Summit Racing is a popular choice for automotive enthusiasts looking for high-performance and aftermarket parts. While primarily known for performance upgrades, Summit Racing also offers a variety of general replacement parts and accessories. Their website features detailed product descriptions and technical advice.


5. O'Reilly Auto Parts

O'Reilly Auto Parts is a well-established auto parts retailer with a strong online presence. They offer a wide range of parts, tools, and accessories. The website provides useful features such as a parts finder tool and repair guides.

Please note that the availability and popularity of online auto parts websites may vary based on individual preferences, location, and specific automotive needs. It's recommended to read customer reviews, compare prices, and check for promotions when choosing a website to purchase car parts in the USA. Additionally, consider reaching out to local auto parts stores for in-store options and personalized assistance.

Comments