Useable Used Auto Part

JunkYard
Lethbridge, Alberta
Want to ADVERTISE this business?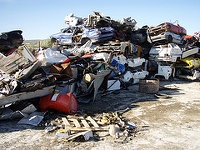 Visitors can visit this junkyard in the area of Lethbridge (Alberta). It delivers car parts to its purchasers. If you want to inquire about any used parts, junk car value estimation, sell or buy junk car, you can contact the business by using email, phone or tollfree. The Useable Used Auto Part business schedule information is not available so far, however, you can see its website.
What you can find: car parts
Canada, Alberta, Lethbridge
238 - 31 Street, Lethbridge, AB (Zipcode: T1H 3Z3)
Useable Used Auto Part Schedule
Useable Used Auto Part Reviews
Place here your opinion! Review Useable Used Auto Part now
Latest blog posts that may be of your interest
Junkyards near Lethbridge
Locate here other salvage yards in the vicinity of Lethbridge (Alberta):
Closest Junk Yards to Lethbridge
Address
Stewart Industrial Park, Lethbridge
Neighbors of the Lethbridge area can access a huge catalog of used parts for their vehicles in this salvage yard. You can get in touch with them via: email, phone or tollfree. More information: The Lethbridge Auto Parts opening schedule info is not present yet but you can check its website.
90069 Range Road 212, Lethbridge
This salvage yard placed in the city of Lethbridge (Alberta), delivers a very specialized and professional service to its clients, offering great offers but with the best excellency and a large variety of inventory. Visitors have the possibility to contact them via: phone and email.