Last update on August 21, 2014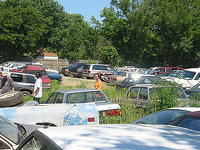 This wrecking yard stablished close to the city of Lindenhurst (New York), delivers scrap metal to its clients. If you aim to ask about any second-hand parts, junk auto value estimation, sell or acquire junk vehicles, please contact via phone. The J & C Salvage Incorporated business hours info is not present so far, despite this you can access its web.
What they do:
scrap metal
USA, New York, Suffolk, Lindenhurst
550 S Railroad Ave, Lindenhurst, NY (Zipcode: 11757)
Business Hours
J & C Salvage Incorporated Reviews
Leave your comments below!
Need used parts? Submit your parts request for a quote
Improve your sales with us!
More than 1,000,000 monthly visitors
We could not call ourselves the finest junk yard repository online for the United States if we didn't provide you some additional elements to assist you in your search for second-hand pieces.
Check this listing (which is organized from closest to farthest) for additional junkyards in the vicinity of Lindenhurst (New York).