Last update on August 21, 2014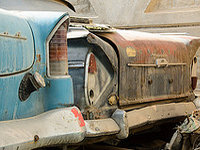 This junk yard situated in the area of Amityville (New York), supplies scrap metal and car parts to its clients. If you aim to inquire on any second-hand pieces, junk auto quotes, trade or acquire junk autos, you can get in touch with them via phone. The G & G Auto Wreckers opening schedule information isn't available so far, despite this you can access its web.
What they sell:
scrap metal car parts
USA, New York, Suffolk, Amityville
139 Dixon Ave, Amityville, NY (Zipcode: 11701)
Business Hours
G & G Auto Wreckers Comments
Place here your comments below!
Need used parts? Submit your parts request for a quote
Improve your sales with us!
More than 1,000,000 monthly visitors
We couldn't be the leading junk yard directory online for the U.S. if we didn't offer you some extra components to help you in your search for junk parts.
Browse this list (which is organized from nearest to furthest) for more junk yards close to the vicinity of Amityville (New York).