Last update on August 21, 2014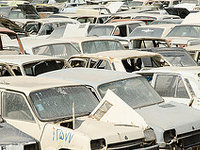 Located close to the city of Lindenhurst (New York), this junk yard is distributing scrap metal and car parts to its potential purchasers. If you are aimed to ask about any used parts, junk car value estimation, get cash for junk cars or scrap autos for sale, feel free to contact them via phone. The A Plus Auto Salvage Incorporated operating schedule information isn't present yet, however, you can see its web.
Their business model:
scrap metal car parts
USA, New York, Suffolk, Lindenhurst
556 W Hoffman Ave, Lindenhurst, NY (Zipcode: 11757)
Business Hours
A Plus Auto Salvage Incorporated Reviews
Need used parts? Submit your parts request for a quote
Improve your sales with us!
More than 1,000,000 monthly visitors
There is a colossal variety of makes and models on the market, so there is a probability that you will not find the second-hand pieces you are looking for in this junkyard, regardless of its deep catalogue. Don't worry, we've already thought about that and retrieved other recyclers for you in the area.
This list (which is arranged from nearest to farthest) displays more salvage yards in the neighborhood of Lindenhurst (New York):