Last update on August 21, 2014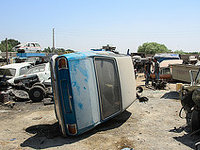 Buyers can find this wrecking yard close to the area of Copiague (New York). This business offers car parts and scrap metal to its customers. If you need to inquire on any second-hand parts, junk car vehicle quotes, sell or buy a junk car, you can contact the dealer via phone. The Garrett Auto Salvage opening schedule information is not available yet, despite this you can access its website.
What they sell:
scrap metal car parts
USA, New York, Suffolk, Copiague
1120 Marconi Blvd, Copiague, NY (Zipcode: 11726)
Business Hours
Garrett Auto Salvage Reviews
Place here your review now!
Need used parts? Submit your parts request for a quote
Improve your sales with us!
More than 1,000,000 monthly visitors
This page pretends to provide you something else, as added to the contact info related to this junkyard. We try to give our users more search possibilities so that you can find your junk parts in the shortest possible time. This list is sorted from closest to furthest from this municipality.
Check under these lines other junk yards close to the surroundings of Copiague (New York):