Last update on December 29, 2015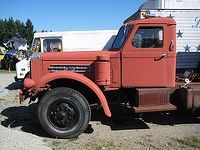 In case you're aimed to look for junk parts for your car at the most competitive prices but without giving up the expected warranties close to the surroundings of Redcliff (Alberta), this junkyard surely delivers what you need. Its business model targets on the delivery of car parts, always including the most strict quality supervision. You can also ask them if you want a valuation of your used auto or if you´re aimed to buy an used auto at a great price. It´s possible to get in touch with them by these means: tollfree, phone and email. Detailed information: The Alberta Auto Wreckers timetable information is not available yet, however, you can see its web.
Their business model:
car parts
Canada, Alberta, Redcliff
41 Industrial Dr. S.E., Redcliff, AB (Zipcode: TOJ 2PO)
Business Hours
Alberta Auto Wreckers Comments
Need used parts? Submit your parts request for a quote
Improve your sales with us!
More than 1,000,000 monthly visitors
This page wants to provide you a little more, as added to the contact info related to this junk yard. We try to give you more search opportunities so that you can locate the best junk spare parts preventing you from wasting time. This list is organized from closest to farthest from this municipality.
Check under this text additional salvage yards near the area of Redcliff (Alberta):
1

1. Flatla Auto Wrecking

R.R.1, Tilley

45.9 miles

The proper technique to save large amounts of money on second hand parts suitable for your car is by visiting a wrecking yard and this is a great option in the Tilley location. This salvage yard has been voted 1 times by previous users.

2

2. VS Truck Works Inc.

Box 476, Oyen

89.8 miles

The proper way to avoid wasting a lot of money on second-hand pieces suitable for your auto is to contact a junk yard and this is a superb pick near the Oyen location.

3

3. Lethbridge Auto Parts

Stewart Industrial Park, Lethbridge

94.3 miles

This salvage yard aims to distribute a very skilled assistance at good prices, gathering an extensive diversity of catalog and with the warranties requested by its clients. You can find this salvage yard near the city of Lethbridge (Alberta). More info: This salvage yard operational hours info cannot be found yet.

4

4. Marshall Auto Wreckers Ltd

90069 Range Road 212, Lethbridge

94.3 miles

Buyers can locate the helpful owners of this wrecking yard by these methods: phone or email. In order to buy the best quality vehicle parts in the city of Lethbridge (Alberta), they are an incredible pick. This junkyard business hours information cannot be found yet.Other visitors have left 1 reviews about this junk yard.

5

5. Useable Used Auto Part

238 - 31 Street, Lethbridge

94.3 miles

Customers can reach this junk yard close to the vicinity of the municipality of Lethbridge (Alberta). Its fundamental business area is the sale of auto parts at the best prices in the area and providing all the guarantees that you may wish. If you want to contact them, you can achieve this by these methods: email, phone and tollfree.