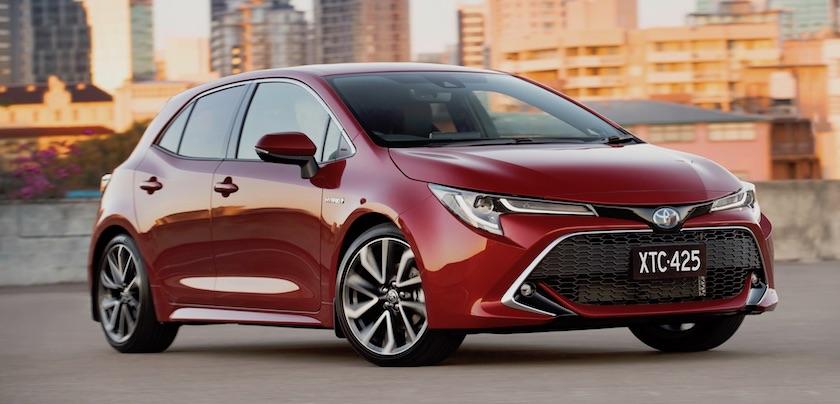 Finding the perfect car, which is 100% adapted to your needs, can be a heavy task and can take a long time. The reason is that we will always try to save as much as possible but at the same time get the best car, and this is not easy to achieve. Obviously, some basic requirements for you will be:
that it is a reliable vehicle
that has excellent autonomy
that it is a safe car for you and your family
of course, be nice and look on the road
Of course, it does not seem easy to find all these qualities gathered in an affordable vehicle, however we think that the Toyota Corolla 2019 may be the perfect choice.
New design: elegant and at the same time practical
The new design of the Toyota Corolla 2019 has raised a lot of expectation, and this is completely justified. It is a breakthrough and current hatchback aesthetic, which gives it a sophisticated and much more expensive car appearance. It is undoubtedly love at first sight.
Toyota fans will especially like the new position at the wheel, much lower, which brings much sporting and dynamic sensations. The cabin is also much wider and longer, which gives more space for the legs. This is due to an increased wheelbase compared to its predecessor. Along with these changes, we find a totally renewed front design, with a more rounded nose and the new trapezoidal lower grille that is now distinctive of the manufacturer. It has two powerful J-shaped headlights that extend around the front fenders, which gives it an aggressive and modern style. As for the wheels, we have a new design of the wheels, in sizes of 16 and 18 inches, for more sporty and equipped models. All equipment levels will include the aforementioned LED front and rear lights and a spoiler that gives it a more sporty appearance.
A spacious and completely renovated interior
In the new Toyota Corolla 2019, the hood has been placed in a lower position than ever. This allows both the driver and passengers enjoy extraordinary visibility, nothing common in a compact vehicle of these dimensions. The owners of this car will discover that the cabin is surprisingly spacious, really above what is usually found in this segment. The new seats have been greatly improved compared to the previous version, now offering a more natural body posture, facilitating long journeys. The center console has also grown in size, which now allows more space for the elbows, increasing the comfort of the occupants.
Along with these improvements in terms of comfort, has also sought to expand the practicality of the vehicle, which now includes many holes located in different areas of the passenger compartment, so you can place your devices and the items you carry in your pockets. It will cost you little to keep bottles of water, bags and other objects.
Security to a new level
Like other current Toyota models, the 2019 Corolla is equipped with the Safety Sense system, which keeps the driver, passengers, and pedestrians out of harm's way. However, in the new 2019 Corolla, Toyota has wanted to go even further, implementing version 2.0 of the TSS, with improvements in all sections related to active and passive safety.
In the XSE version, the Corolla is equipped with additional safety functions, such as the unintentional lane change alert, lane tracking assistance, the blind spot detector or the pedestrian detection system, along with 7 airbags, both of head as of knee.
A new range of engines
The engineers of the Toyota New Global Architecture (TNGA) have achieved something incredible: to offer in the new Corolla 2018 a new manual transmission iMT of 2.0 liters, with four cylinders and 6 speeds and CVT change, together with an improved sports suspension, getting a few sensations more dynamic than ever. How could it be otherwise, it is an extremely efficient engine in every way, with an EPA rating higher than its predecessor, which is saying a lot.
If we forget for a moment the consumption, the new Corolla 2019 is surprisingly fun to drive, due mainly to its propeller based on TNGA. It is a small and not very heavy engine, which allows to have a center of gravity lower than in its predecessors. This in the end results in an improved balance and an aplomb on the road outside normal.
It's an engine equipped with the most modern injection system of Toyota, the D-4S, which includes Variable Valve Timing-intelligence technology (VVTi) and VVT-iE (for electric engines). The Dynamic Force technology allows to achieve a better combustion, with a more
Comments