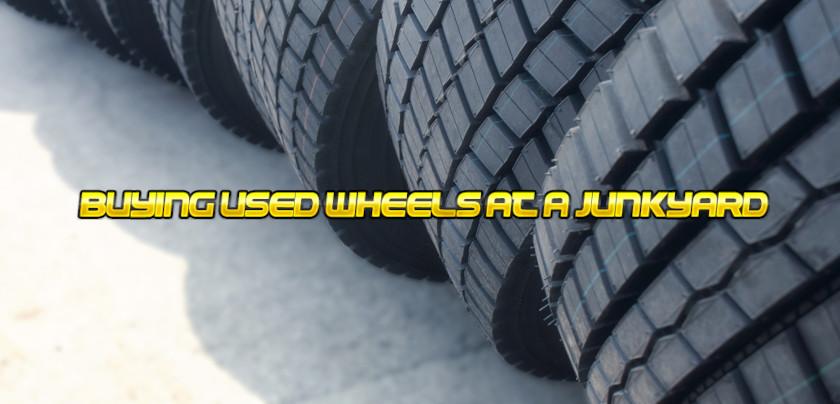 Everyone breaks the wheels of their car, but it is not always good for us to buy new ones, since their price is usually quite high these times. That is why many people choose to buy wheels in the junkyard. But if we do not know about mechanics or vehicles it will be difficult for us to find ones at a good price and in good condition with the expected warranties. That is why in this article we will give you some advice to choose well in these cases.
The first thing we have to know is if we are going to change a single wheel, so that they are not all the same on the car, or if we are going to change all four wheels. I would advise you to look for a pack of four wheels, since that way the car will be much better for us at the end of the change.
Once this is decided, we will have to see what wheels we want since there are several types, winter for snow?, 4x4 for the mountains... there are several types.
Once the wheel model we need has been chosen, we will look for the measurements. We will find these in the wheels that we have right now, in the rubber it puts, the height, width and all that data.
With this information we will go to the salvage yard and we will offer the worker who attends us the information we have. And this will take us to the area where we can find the wheels we want. It will take us a while to find wheels, especially if we want to change all four wheels. But we will be able to find them, even if we have been searching for a couple of hours.
In this search, we must take into account several things, the condition of the wheel is very important, we must not choose very worn wheels, since these could cause accidents, and nobody wants that. For this reason, we should always look for wheels that are in good condition if we are going to drive on the road, otherwise we would endanger our health and that of others.
Therefore, if we are going to drive around the city or on long roads, it is best to buy new wheels, to ensure safety. But if our case is different, for example if we are going to go to a circuit to drift, we can buy second-hand wheels and we will save a lot of money. Since in this case the wheels are destined to break and change. And even if we don't have 100% verified safety, we can't have an accident as bad on a circuit as on the road, since these places are usually prepared for accidents.
Knowing this, we must assess why we want our wheels, and assess the circumstances at all times. Once this is known, we can say that if you have a car for city and highway and want to buy wheels in the junkyard, only look at the wheels that are like new, since if the salvage yards have completely new wheels, from cars that still had accidents but have not broken the wheels. On the other hand, if you are going to go to a racing circuit, to drift, we recommend that you buy cheaper wheels, since they often do not last even an hour.
Comments