Last update on August 21, 2014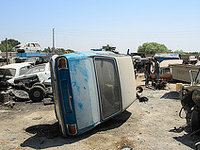 This junkyard stablished near the city of Normalville (Pennsylvania), provides scrap metal or car parts to its visitors. If you aim to ask on any used vehicle spare parts, junk auto value estimation, obtain money for used cars or junk cars for sale, feel free to get in touch with them by phone. The Upton Auto Wreckers opening schedule info is not available so far, however, you can check its website.
What you can buy:
scrap metal car parts
USA, Pennsylvania, Fayette, Normalville
544 Buchanan Rd, Normalville, PA (Zipcode: 15469)
Operating Hours
Upton Auto Wreckers Reviews
Need used parts? Submit your parts request for a quote
Improve your sales with us!
More than 1,000,000 monthly visitors
We could not call ourselves the leading salvage yard database online for the United States if we didn't offer you some extra elements in order to assist you in your search for junk spare parts.
Check this list (which is arranged from closest to furthest) for more junk yards close to the area of Normalville (Pennsylvania).