Last update on August 21, 2014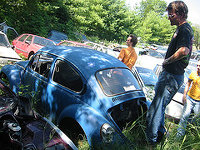 Owners who are looking for wrecking yards focused on the distribution of truck parts or car parts close to the area of Greensboro (North Carolina), here they have an option that will not deceive. They are skilled professionals who deeply review the junk vehicle spare parts they trade and provide the best guarantees, so you can acquire them with total confidence. If you need to get in touch with them, you can do so: tollfree, email or phone. Additional information: The Tri-City Auto Salvage opening hours info is not available so far.
What you can find:
truck parts car parts
USA, North Carolina, Guilford, Greensboro
Operating Hours
Tri-City Auto Salvage Comments
Place here your review below!
Need used parts? Submit your parts request for a quote
Improve your sales with us!
More than 1,000,000 monthly visitors
We couldn't be the best junk yard database online for the United States if we didn't deliver you some additional features to help you in your search for second-hand pieces.
Review this listing (which is sorted from nearest to farthest) for additional junk yards near the vicinity of Greensboro (North Carolina).