Trappers Auto Parts

JunkYard
Whitecourt, Alberta
Want to ADVERTISE this business?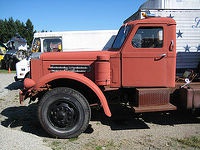 If you are looking for used spares for your autos at the lowest prices and with good guarantees in the surroundings of Whitecourt (Alberta), this junk yard certainly offers what you want. Its business area targets on the delivery of car parts, always with the most meticulous quality control. You can additionally inquire them if you need a valuation of your second-hand auto or if you are looking to buy a junk vehicle at a low price. It is viable to contact them by these methods: email or phone. Additional information: The Trappers Auto Parts opening schedule info is not available so far, despite this you can check its website.
What you can find: car parts
Canada, Alberta, Whitecourt
5719-50th Avenue, Whitecourt, AB (Zipcode: T7S 1P2)
www.trappersautoparts.com
Trappers Auto Parts Schedule
Trappers Auto Parts Reviews
Leave your opinion! Review Trappers Auto Parts now
Latest blog posts that may be of your interest
Junkyards near Whitecourt
Locate here other scrap yards in the area of Whitecourt (Alberta):
Closest Junk Yards to Whitecourt
Address
Distance
Box 5208, Stn Main, Edson
80 miles
Customers can locate this junk yard in the neighborhood of the town of Edson (Alberta). Its fundamental business model is the distribution of vehicle parts at the lowest prices in the area and with all the warranties that you may require. If you need to get in touch with them, you can do it by these means: email, tollfree or phone.
Site 13, Box 6, R.R. 2, Barrhead
83.7 miles
Neighbors of the Barrhead area can check an enormous inventory of used spares for their cars in this salvage yard. You can contact them using: email, tollfree and phone. Additional info: The Barrhead Auto Parts & Salvage Ltd. opening schedule information is not included so far.