Thunder Bay Auto Parts

JunkYard
Thunder Bay, Ontario
Want to ADVERTISE this business?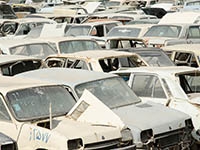 This wrecking yard located in the city of Thunder Bay (Ontario), offers car parts to its clients. To inquire about any used parts, junk car value estimation, get cash for junk cars or junk cars for sale, please contact via phone, email and tollfree. The Thunder Bay Auto Parts business hours information is not available but you can check its web.
What you can find: car parts
Canada, Ontario, Thunder Bay
520 Squier Street, Thunder Bay, ON (Zipcode: P7B 4A8)
Thunder Bay Auto Parts Schedule
Thunder Bay Auto Parts Reviews
Leave your opinion! Review Thunder Bay Auto Parts now
---
Junkyards near Thunder Bay
Check this list for more scrap yards in the area of Thunder Bay (Ontario):