Last update on March 16, 2023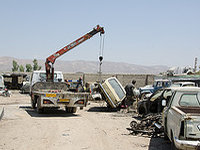 If you're looking for second-hand spares compatible with your vehicle at the lowest prices but without compromising the best warranties near the area of Duluth (Minnesota), this salvage yard surely offers what you want. Its business area focuses on the distribution of car parts, always with the most strict quality control. You can also inquire them if you want a quote for your second-hand vehicle or if youu00b4re interested in buying a second hand vehicle at a good price. Itu00b4s feasible to get in touch with them by these methods: email, tollfree and phone. Additional information: The Chesney Auto Salvage is open from Monday to Friday.
Their business model:
car parts
USA, Minnesota, St Louis, Duluth
6250 Beaver River Rd, Duluth, MN (Zipcode: 55803)
Operating Hours
Want to sell your junk car for cash?
Looking to quickly obtain top dollar cash for your previously owned vehicle? If that's the case, you've come to the appropriate spot.
Complete the step-by-step form in under 2 minutes by providing the details regarding your vehicle.
Receive the purchase offer for your vehicle right away and without any obligation and see the amount you will be paid for your vehicle.
Get instant payment and benefit from the advantage of free towing service. Get rid of your vehicle with no worries, since it will be retrieved from wherever at no extra cost.
Chesney Auto Salvage Comments
Place here your comments below!
Need used parts? Submit your parts request for a quote
Improve your sales with us!
More than 1,000,000 monthly visitors
New blog posts that may be of your interest
This section pretends to offer you something else, apart from the contact details of this junk yard. We work to show our users more search options so that you can locate nearby used spares in the shortest possible time. This listing is arranged from closest to farthest from this location.
Find under this text additional junk yards close to the area of Duluth (Minnesota):
1

1. Calvary Auto Salvage

Duluth

Are you the owner of an aged vehicle or are you immersed in the search of second hand parts compatible with your automobile? We suggest to approach this salvage yard, since it gathers a gargantuan inventory.

2

2. Bay Side Recycling Group

Duluth

Purchasers have the opportunity to find this junkyard close to the neighborhood of the municipality of Duluth (Minnesota). Its preeminent business area is the sale of vehicle parts at the most incredible prices in the state but without giving up all the guarantees that you could wish. In case you are aimed to contact them, you can achieve this by these methods: phone, tollfree and email.

3

3. A T I

2318 E 2nd St, Superior

7.7 miles

In case you're in the search for the cheapest junk pieces near the Superior vicinity, this business could be an excellent option to obtain them at a low price. You can contact them via: phone. The A T I is open Monday to Friday.

4

4. Twin Ports Auto Parts

Superior

7.7 miles

Visitors can reach the attentive managers of this junkyard by these methods: email, phone or tollfree. In case you want to obtain high quality vehicle parts in the city of Superior (Wisconsin), they are an ineludible choice.

5

5. Penney Dave

1015 Elm Ave, Superior

7.7 miles

Are you the owner of an used vehicle or are you trying hard to locate second hand parts for your auto? This directory suggest a visit to this salvage yard, since it provides a vast stock. They work from Monday to Friday.

6

6. Country Boy Auto Parts

7566 E Cty Tk E, South Range

16.2 miles

You can avoid wasting hundreds of dollars on the repairs of your beloved auto by getting junk pieces without giving up the expected warranties in this well-known in South Range neighborhood business. The Country Boy Auto Parts is open Monday to Friday.

7

7. Mark's Salvage & Recycling

8089 Hwy 2, Saginaw

16.3 miles

You can save hundreds of dollars on the maintenance of your loved automobile by obtaining used spare-parts with guarantee in this popular in Saginaw surroundings business. Additional info: They are open from Monday to Saturday.

8

8. Andys Auto Recycling

1040 Highway 45, Carlton

16.9 miles

The business we show here is wich operates close to Carlton (Minnesota) and it's providing the highest quality auto parts to its eventual buyers near the neighborhood. In case you need to demand an estimation for your junk automobile or request for a particular junk part, please get in touch with them using phone. Other customers have left 1 reviews about this junk yard.

9

9. Bill's Auto

Cloquet

18.5 miles

You can economize large amounts of money on the repairs of your prized car by obtaining used spare parts without giving up the necessary warranties in this leading in Cloquet neighborhood junk yard.

10

10. Road Rash Cycle Salvage

Aurora

52.2 miles

Inhabitants of the Aurora surroundings have the opportunity to check an enormous catalog of used parts for their cars in this wrecking yard. It is possible to reach them using: email, tollfree or phone.