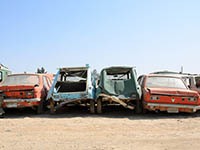 In case you're aimed to look for second hand spare parts which an fit your car at the lowest prices but without giving up good guarantees in the surroundings of Kelowna (British Columbia), this junk yard certainly delivers what you need. Its business model targets on the delivery of , always including the most strict quality supervision. You can additionally ask them if you want a quote for your second hand auto or if you´re looking to buy a second hand vehicle at a low price. It is viable to get in touch with them by these means: phone. Additional info: The Pick-n-Pull – Kelowna timetable info isn't offered yet.
Canada, British Columbia, Kelowna
1516 Stevens Road, Kelowna V1Z 1G2
Need used parts? Submit your parts request for a quote
This page pretends to provide you something else, as added to the contact info related to this junk yard. We work to give you more search possibilities with the goal that you can locate the best used spare parts as soon as possible. This listing is organized from nearest to furthest from this location.
Locate below more junkyards in the surroundings of Kelowna (British Columbia):