Last update on August 21, 2014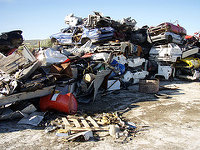 This salvage yard based close to the city of Dawson (Pennsylvania), offers scrap metal or car parts to its buyers. In order to inquire on any used vehicle spare parts, junk auto value estimation, sell or purchase second hand autos, feel free to contact via phone. The Murphys Auto Wreckers business schedule information is not included yet, despite this you can see its web.
What they do:
scrap metal car parts
USA, Pennsylvania, Fayette, Dawson
242 Hickory Square Rd, Dawson, PA (Zipcode: 15428)
Operating Hours
Murphys Auto Wreckers Reviews
Need used parts? Submit your parts request for a quote
Improve your sales with us!
More than 1,000,000 monthly visitors
New blog posts that may be of your interest
We couldn't be the leading junkyard database online for the U.S. if we didn't deliver you some extra features to assist you in your search for junk spare parts.
Review this listing (which is sorted from closest to furthest) for additional salvage yards near the surroundings of Dawson (Pennsylvania).