Manns Used Parts


Lenoir, North Carolina
Want to ADVERTISE this business?
Last update on August 8, 2018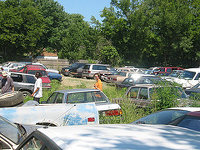 This junkyard located in the city of Lenoir (North Carolina), offers car parts to its customers. To ask about any used vehicle pieces, estimated junk car value, sell or buy used cars, please contact via email, tollfree or phone. The Mann`s Used Parts business hours information can be located below.
What you can find: car parts
USA, North Carolina, Caldwell, Lenoir
2501 Alfred Hartley Rd, Lenoir, NC (Zipcode: 28645)
Manns Used Parts Schedule
Place here your opinion! Review Manns Used Parts now
---
Junkyards near Lenoir
Review this list for more junk yards in the area of Lenoir (North Carolina):