John`s U Pull It Parts

JunkYard
Bunnell, Florida
Want to ADVERTISE this business?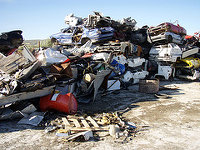 Visitors who are interested in junk yards focused on the sale of car parts in the vicinity of Bunnell (Florida), here they have a choice that won't deceive. They are professionals who thoroughly check the second-hand vehicle pieces they distribute and deliver the most complete warranties, so you can purchase them with absolute tranquility. In case you want to contact them, you can do so: email, tollfree and phone. Additional information: The John`s U Pull It Parts opening schedule information is not available yet.
What you can find: car parts
USA, Florida, Flagler, Bunnell
John`s U Pull It Parts Schedule
John`s U Pull It Parts Reviews
Leave your opinion! Review John`s U Pull It Parts now
---
Junkyards near Bunnell
Check this list for more salvage yards in the surroundings of Bunnell (Florida):