Jack`s Cycle & Salvage Inc.
Jack`s Cycle & Salvage Inc.

JunkYard
Sanford, Florida
Want to ADVERTISE this business?
Last update on August 21, 2014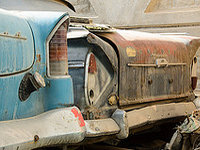 Visitors who are looking for junk yards dedicated to the sale of motorcycle parts in the area of Sanford (Florida), here they have a choice that will not disappoint. They are professionals who thoroughly check the used vehicle parts they distribute and provide the most complete guarantees, so you can acquire them with absolute tranquility. If you want to contact them, you can do so: email, tollfree and phone. Additional info: The Jack`s Cycle & Salvage Inc. opening hours info is not included yet.
What you can find: motorcycle parts
USA, Florida, Seminole, Sanford
Jack`s Cycle & Salvage Inc. Schedule
Jack`s Cycle & Salvage Inc. Reviews
Leave your opinion! Review Jack`s Cycle & Salvage Inc. now
---
Junkyards near Sanford
Review this list for additional salvage yards in the surroundings of Sanford (Florida):