Last update on December 29, 2015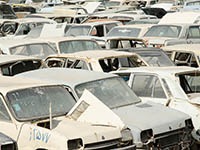 Purchasers who are interested in salvage yards specialized in the sale of car parts in the vicinity of Brackley (Prince Edward Island), here they have an option that won't disappoint. These are professionals who thoroughly check the second-hand vehicle parts they sell and deliver the expected warranties, so you can purchase them with total tranquility. In case you want to get in touch with them, you can do so: phone and email. Detailed information: The Island Auto Supply timetable information isn't included so far, however, you can check its website.
Their business model:
car parts
Canada, Prince Edward Island, Brackley
451 Brackley Point Road, Brackley, PE (Zipcode: C1E 3C2)
Operating Hours
Island Auto Supply Comments
Share your comments below!
Need used parts? Submit your parts request for a quote
Improve your sales with us!
More than 1,000,000 monthly visitors
We could not call ourselves the leading junk yard repository online for the United States if we didn't offer you some extra elements to help you in your search for second-hand pieces.
Check this listing (which is organized from nearest to furthest) for more junkyards close to the surroundings of Brackley (Prince Edward Island).
1

1. O'Briens Recycling

2224 Glenmartin, Montague

26 miles

It's easy to avoid wasting a lot of money on the maintenance of your dear automobile by acquiring second-hand spare-parts without giving up the necessary warranties in this eminent in Montague area salvage yard. More information: The O'Briens Recycling is open Monday to Saturday.Other users have shared 2 reviews about this junk yard.

2

2. Sunrise Towing & Salvage

PO Box 44, Port Howe

43.2 miles

The perfect way to avoid wasting large amounts of money on second-hand parts suitable for your car is to contact a wrecking yard and this is an outstanding choice near the Port Howe zone. Additionally, you may read 1 reviews left by other users.

3

3. T&W Auto Centre Ltd.

RR#3, 2713 Westville Rd, New Glasgow

56.1 miles

The finest method to save hundreds of dollars on second hand parts for your auto is by approaching a junkyard and this is a great option close to the New Glasgow area. This salvage yard has been rated 1 times by our users.

4

4. One Stop Auto

3426 Smith Road, Rte 152, PO Box 22, St. Louis

61.5 miles

This salvage yard aims to deliver a very skilled assistance at very reasonable prices, gathering an immense depht of supply and with the warranties demanded by its purchasers. You have the opportunity to find this junk yard near the municipality of St. Louis (Prince Edward Island). This junk yard timetable information is not available, however, you can check its web.

5

5. LKQ Vance Hanes Auto Parts

466 Brookside Road, Upper Brookside

62.5 miles

Inhabitants of the Upper Brookside vicinity have the opportunity to check a gargantuan supply of junk spares suitable for their cars in this wrecking yard. You can reach them via: tollfree, phone and email. They're open Monday to Friday.Additionally, you may check 3 reviews left by our visitors.

6

6. Blenkhorns Auto Recyclers

RR#2, 332 Brookside Branch Road, Truro

65.9 miles

The ideal way to save hundreds of dollars on used pieces suitable for your car is by approaching a wrecking yard and this is an exceptional election close to the Truro neighborhood. More info: They work from Monday to Saturday.This business has been rated 3 times by our visitors.

7

7. Maritime Auto Parts

3667 Rushton Road, Glenholme

66.1 miles

Customers have the possibility to reach this business close to the proximity of the municipality of Glenholme (Nova Scotia). Its main business model is the marketing of auto pieces with the most incredible prices in the surroundings but without giving up all the guarantees that you could wish. In case you are aimed to contact them, you can do this this way: email, phone or tollfree.

8

8. Bastarache Auto Salvage (1986) Ltd

1796 Shediac River Road, Shediac River

70.7 miles

Citizens of the Shediac River surroundings have the possibility to buy a large supply of second hand parts compatible with their automobiles in this junkyard. It is possible to contact them using: email, tollfree and phone. Additional info: This salvage yard operational hours information is not available, despite this you have the option to visit its web.Other customers have left 2 reviews about this salvage yard.

9

9. Jeff Miller Auto Parts Ltd

RR#1, 5806 Hwy 215, Noel Shore

73.2 miles

You can economize hundreds of dollars on the maintenance of your beloved auto by getting second-hand pieces with warranty in this leading in Noel Shore area salvage yard. This business has been rated 2 times by previous users.