Blenkhorns Auto Recyclers
Blenkhorns Auto Recyclers

JunkYard
Truro, Nova Scotia
Want to ADVERTISE this business?
Last update on December 29, 2015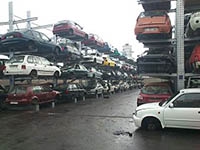 This wrecking yard placed in the city of Truro (Nova Scotia), sells scrap metal or car parts to its visitors. To inquire on any used parts, estimated junk car value, sell or purchase used autos, you can get in touch with them via phone, tollfree and email. The Blenkhorns Auto Recyclers business schedule info is not present so far but you can check its website.
What you can find: scrap metal car parts
Canada, Nova Scotia, Truro
RR#2, 332 Brookside Branch Road, Truro, NS (Zipcode: B6L 2A8)
Blenkhorns Auto Recyclers Schedule
Blenkhorns Auto Recyclers Reviews
Share your opinion! Review Blenkhorns Auto Recyclers now
Latest blog posts that may be of your interest
Junkyards near Truro
Check this list for additional scrap yards in the surroundings of Truro (Nova Scotia):
Closest Junk Yards to Truro
Address
Distance
466 Brookside Road, Upper Brookside
6.3 miles
The perfect way to save a lot of money on used parts for your auto is by visiting a vehicle salvage yard, and this is an excellent choice in the Upper Brookside neighborhood.
3667 Rushton Road, Glenholme
21.2 miles
You can economize a lot of money on the reparation of your well-liked auto by buying used pieces with warranty in this leading in Glenholme surroundings business. More information: The Maritime Auto Parts business schedule info is not available so far, despite this you can see its web.
RR#1, 5806 Hwy 215, Noel Shore
29.4 miles
You can contact the attentive managers of this salvage yard by this way: phone or email. In order to purchase the best quality vehicle parts in the town of Noel Shore (Nova Scotia), they are an ineluctable choice. Additional info: The Jeff Miller Auto Parts Ltd business hours information is not available so far.
RR#3, 2713 Westville Rd, New Glasgow
53.8 miles
Neighbors of the New Glasgow surroundings can access an inmense catalog of used parts for their vehicles in this business. You can get in touch with them using: tollfree, phone and email. More information: The T&W Auto Centre Ltd. opening schedule info is not included so far.
PO Box 44, Port Howe
66.1 miles
This business is placed in Port Howe (Nova Scotia) and it's delivering high quality vehicle parts to its potential purchasers in the vicinity. If you want to inquire an estimation for your used vehicle or ask for a specific junk piece, you can contact them via phone or email.
470 Dyke Road, Cow Bay
84.3 miles
Do you have an old vehicle or are you immersed in the search for used pieces for your auto? We advise you to approach this salvage yard, since it offers an enormous inventory. More info: The Maritime Pick-a-Part opening hours information is not present so far but you can review its web.