O'Briens Recycling


Montague, Prince Edward Island
Last update on January 28, 2019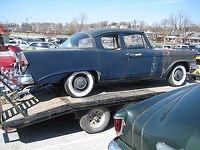 Located in the vicinity of Montague (Prince Edward Island), this salvage yard is distributing scrap metal to its potential purchasers. If you want to inquire on any second-hand parts, estimated junk car value, get cash for junk cars or scrap autos for sale, you can contact them by email and phone. The Ou2019Briens Recycling timetable info can be found below these lines.
What they do: scrap metal
Canada, Prince Edward Island, Montague
2224 Glenmartin, Montague, PE (Zipcode: C0A 1R0)
Improve your sales with us!
More than 1,000,000 monthly visitors
O'Briens Recycling Schedule
O'Briens Recycling Comments
Place here your comments here!
There is a huge mixture of makes and models for sale, so there is a probability that you will not find the used spares you are looking for in this junkyard, regardless of its impressive catalogue. Don't worry, we've already thought about that and gathered other recyclers for you very close.
This listing (which is organized from nearest to farthest) gathers additional salvage yards close to the surroundings of Montague (Prince Edward Island):
Closest Junk Yards to Montague
Address
Distance
451 Brackley Point Road, Brackley
42 miles
This salvage yard aims to distribute a very efficient assistance at lower prices, with an immense variety of catalog and with the guarantees demanded by its buyers. You can find this wrecking yard in the town of Brackley (Prince Edward Island). More information: The Island Auto Supply business schedule information isn't included so far, however, you can review its website.
RR#3, 2713 Westville Rd, New Glasgow
64.9 miles
Neighbors of the New Glasgow neighborhood can obtain a wide supply of junk spare parts suitable for their cars in this junk yard. It is possible to reach them using: tollfree, phone or email. More information: The T&W Auto Centre Ltd. opening hours info is not available yet.
PO Box 44, Port Howe
92.2 miles
The salvage yard we show here is located near Port Howe (Nova Scotia) and it's providing incredible performance auto spares to its potential buyers close to the proximity. If you are aimed to demand a quote for your used auto or ask for a specific second-hand spare-part, you can contact them via phone and email.
466 Brookside Road, Upper Brookside
94.8 miles
The best method to economize a lot of money on spare pieces for your auto is to contact a salvage yard and this is an outstanding choice in the Upper Brookside surroundings.