Last update on October 3, 2016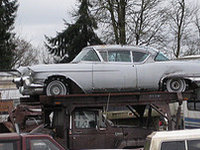 Grainger Near Me Auto Parts is located in the city of Savannah (Georgia), offers used car parts to its potential customers. If you want to ask about any used auto spares, get a junk car quote, sell or buy used autos, please contact via phone or email with them. The Grainger Auto Parts schedule information is not available yet.
What they sell:
car parts
USA, Georgia, Chatham, Savannah
60 Telfair Pl, Savannah, GA (Zipcode: 31415)
Operating Hours
Grainger Auto Parts Comments
Need used parts? Submit your parts request for a quote
Improve your sales with us!
More than 1,000,000 monthly visitors
We could not call ourselves the finest junkyard repository online for the U.S. if we didn't provide you some additional components in order to assist you in your search for junk parts.
Review this listing (which is sorted from closest to farthest) for more wrecking yards close to the surroundings of Savannah (Georgia).
1

1. European Autos, LTD.

Savannah

The salvage yard we display here is settled in Savannah (Georgia) and it's offering the highest value vehicle parts to its potential clients near the proximity. If you need to request a quote for your used auto or plead for a particular junk part, you can contact them using tollfree, phone or email.

2

2. McGraw's Auto Salvage

Hardeeville

13.2 miles

The junkyard listed here is placed close to Hardeeville (South Carolina) and it's offering incredible value vehicle pieces to its possible purchasers near the proximity. In case you are aimed to request an estimation for your old vehicle or plead for a specific second-hand spare-part, you can get in touch with them using tollfree, phone and email.

3

3. Horton Mack

155 Jerrell Woods Rd, Guyton

24.2 miles

The best way to avoid wasting large amounts of money on second hand pieces suitable for your automobile is to contact a junkyard and this is an outstanding election close to the Guyton zone. More information: This salvage yard opening schedule info cannot be found yet.

4

4. D & L Auto Crushing

639 Harveytown Rd, Pembroke

30.6 miles

Users have the possibility to reach this junkyard near the proximity of the municipality of Pembroke (Georgia). Its fundamental business model is the marketing of vehicle parts with the most incredible prices in the surroundings but without giving up all the guarantees that you could wish. In case you want to reach them, you can achieve it by these methods: phone.

5

5. Edward's Wrecking Yard Inc.

3180 Westside Rd, Statesboro

46.4 miles

Customers have the possibility to visit the welcoming managers of this salvage yard by this way: email or phone. If you want to get high quality vehicle spares in the municipality of Statesboro (Georgia), they are an ineluctable election. The Edward's Wrecking Yard Inc. is open Monday to Saturday.

6

6. Salvage Jeep Parts

2541 MILL CREEK RD, Statesboro

46.4 miles

This business aims to provide an highly efficient service at very reasonable prices, gathering a hefty breadth of inventory and with the guarantees requested by its buyers. Visitors have the opportunity to meet this junk yard in the municipality of Statesboro (Georgia). They're open Monday to Friday.Additionally, you can read 2 reviews in order to know more about this business.

7

7. Besco Auto Recycling LLC

Brunswick

68 miles

It's easy to economize a lot of money on the maintenance of your well-liked car by obtaining junk spare-parts without giving up the necessary warranties in this leading in Brunswick area junk yard. This salvage yard timetable information is not available, despite this you can check its web.

8

8. A & A Auto Wrecking

7024 New Jesup Hwy, Brunswick

68 miles

Residents of the Brunswick surroundings have the opportunity to purchase a gargantuan stock of second-hand spare parts for their automobiles in this junkyard. You can contact them via: phone. This business operational hours info is not available, however, you have the option to check its web.

9

9. Daiels Construction & Demolition,Inc

Brunswick

68 miles

The perfect technique to save a lot of money on used parts suitable for your vehicle is to contact a junkyard and this is a great pick near the Brunswick zone.

10

10. Performance Latemodel Auto Dismantling

Lyons

71.9 miles

This junkyard wants to distribute a very specialized and professional assistance at incredible prices, gathering a wide depht of catalog but without giving up the guarantees expected by its customers. You can find this business in the town of Lyons (Georgia).