Last update on December 29, 2015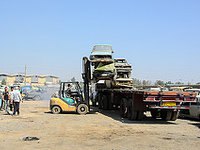 Interested parties can locate this junk yard near the vicinity of Westlock (Alberta). This business delivers car parts to its clients. In case you want to inquire on any spare parts, junk car vehicle quotes, sell or buy a junk car, you can get in touch with the dealer by using email, tollfree or phone. The Ed's Auto Salvage operating schedule info is not included so far, however, you can review its website.
What they sell:
car parts
Canada, Alberta, Westlock
11040-93 Ave, Westlock, AB (Zipcode: T7P 2N2)
Business Hours
Ed's Auto Salvage Comments
Need used parts? Submit your parts request for a quote
Improve your sales with us!
More than 1,000,000 monthly visitors
This section wants to provide you something else, apart from the contact info related to this junkyard. We try to show our visitors additional search possibilities so that you can find nearby used pieces as soon as possible. This list is arranged from closest to furthest from this location.
Locate under this text other salvage yards near the surroundings of Westlock (Alberta):