Last update on August 21, 2014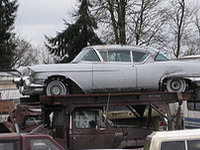 Users who are aimed to find junk yards dedicated to the distribution of scrap metal and car parts near the vicinity of Bronx (New York), here they´ve a choice that will not deceive. They are skilled professionals who deeply check the used vehicle spares they trade and provide the most complete warranties, so you can buy them with absolute tranquility. If you want to get in touch with them, you can do so: phone. Detailed info: The Bndge Auto Wreckers timetable info is not included so far but you can check its website.
What they do:
scrap metal car parts
USA, New York, Bronx, Bronx
363 Huntington Ave, Bronx, NY (Zipcode: 10465)
Operating Hours
Want to sell your junk car for cash?
If you want to swiftly get rid of your junk auto and receive top dollar cash for it, then you have come at the correct spot.
Fill out the step-by-step form in under 2 minutes by giving the details about your car.
Receive the purchase offer for your vehicle immediately and with no obligation. See the sum you will be paid for your car.
Get instant payment and enjoy the convenience of free towing service. Get rid of your vehicle without worries, as it will be picked up from anywhere at no extra cost.
Bndge Auto Wreckers Reviews
Need used parts? Submit your parts request for a quote
Improve your sales with us!
More than 1,000,000 monthly visitors
We could not call ourselves the finest salvage yard directory on internet for the United States if we didn't deliver you some extra elements to assist you in your search for second-hand spare parts.
Review this list (which is arranged from nearest to farthest) for additional junk yards in the vicinity of Bronx (New York).