Last update on August 21, 2014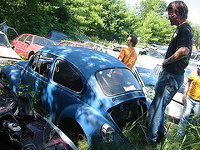 Situated close to the city of Bronx (New York), this junk yard is distributing car parts or scrap metal to its potential customers. If you are aimed to ask on any used pieces, junk car value estimation, buy or sell scrap cars, please reach them by phone. The Boyle Auto Wreckers Incorporated business hours information isn't available yet but you can see its website.
Their business model:
scrap metal car parts
USA, New York, Bronx, Bronx
1342 Blondell Ave, Bronx, NY (Zipcode: 10461)
Operating Hours
Boyle Auto Wreckers Incorporated Reviews
Need used parts? Submit your parts request for a quote
Improve your sales with us!
More than 1,000,000 monthly visitors
There is an enormous mixture of makes and models for sale, so there's a possibility that you will not find the used pieces you are looking for in this salvage yard, despite its deep inventory. Don't worry, we've already thought about that and retrieved other businesses for you nearby.
This list (which is sorted from nearest to furthest) gathers more junk yards in the surroundings of Bronx (New York):