Last update on December 29, 2015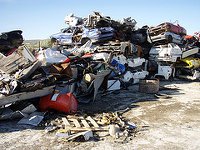 You can access this junkyard in the area of Barrhead (Alberta). It offers car parts to its customers. If you need to inquire about any spare parts, estimated junk car value, trade or buy a junk car, you can get in touch with the dealer via email, tollfree or phone. The Barrhead Auto Parts & Salvage Ltd. operating schedule info is not included so far.
What you can buy:
car parts
Canada, Alberta, Barrhead
Site 13, Box 6, R.R. 2, Barrhead, AB (Zipcode: T7N 1N3)
Operating Hours
Barrhead Auto Parts & Salvage Ltd. Comments
Need used parts? Submit your parts request for a quote
Improve your sales with us!
More than 1,000,000 monthly visitors
This section aims to offer you a little more, apart from the contact details related to this salvage yard. We work to show you additional search possibilities so that you can locate your second hand spare parts preventing you from wasting time. This list is sorted from closest to furthest from this city.
Find below additional junk yards in the surroundings of Barrhead (Alberta):