Last update on August 21, 2014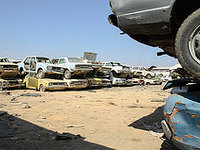 If you're looking for second hand parts which an fit your car at the most competitive prices but without giving up the expected warranties close to the surroundings of Baltimore (Maryland), this junkyard certainly has what you need. Its business area focuses on the delivery of motorcycle parts, always with the most scrupulous quality control. You can also ask them if you need a quote for your junk vehicle or if you are interested in buying a second hand auto at a great price. It is viable to contact them by these means: email, tollfree and phone. More information: The Baltimore Cycle Salvage business schedule information is not included yet.
What they do:
motorcycle parts
USA, Maryland, Baltimore City, Baltimore
Business Hours
Baltimore Cycle Salvage Comments
Need used parts? Submit your parts request for a quote
Improve your sales with us!
More than 1,000,000 monthly visitors
This section pretends to provide you a little more, apart from the contact details related to this junkyard. We work to show our visitors more search opportunities so that you can find nearby used spares as soon as possible. This list is organized from closest to farthest from this city.
Locate under this text additional salvage yards close to the area of Baltimore (Maryland):
1

1. Junk Car Boys - Cash for Cars Baltimore

416 S Augusta Ave, Baltimore

This junk yard wich operates close to the city of Baltimore (Maryland), provides a very competent service to its purchasers, with incredible bargains but without giving up the best quality and a vast depht of supply. They're open from Monday to Saturday.

2

2. Cox Auto Parts, Inc.

Baltimore

Do you have sleeping in the garage an old vehicle or are you trying hard to locate second-hand spare-parts suitable for your auto? We advise you a visit to this salvage yard, since it gathers a huge inventory. In addition, you may read 1 thoughts left by other users.

3

3. City Line Truck and Auto Salvage

Baltimore

This salvage yard aims to offer a very efficient service at lower prices, with a large depht of inventory but without giving up the warranties expected by its buyers. Users can find this junk yard near the town of Baltimore (Maryland).

4

4. Eastside Auto Recycling Incorporated

4725 Erdman Ave, Baltimore

The best approach to save large amounts of money on used parts for your vehicle is by approaching a junk yard and this is a superb choice near the Baltimore location. More information: They work from Monday to Friday.

5

5. Cars of Maryland

3701 Duncanwood Ln, Baltimore

This business placed near the surroundings of Baltimore (Maryland), provides an highly efficient service to its customers, offering incredible offers but with the expected excellency and a generous breadth of supply. They work from Monday to Friday.

6

6. AA Cycles

Brooklyn

5.5 miles

The best technique to avoid wasting a lot of money on used pieces for your vehicle is to contact a wrecking yard and this is a great pick in the Brooklyn zone.

7

7. Toms Used Auto Parts

2723 N Point Blvd, Dundalk

7 miles

Purchasers have the possibility to reach the attentive managers of this wrecking yard by these methods: phone. If you want to buy high quality vehicle parts in the city of Dundalk (Maryland), they are an incredible choice. They're open Monday to Friday.

8

8. Beltsville Auto Recyclers Inc

4101 Curtis Ave, Curtis Bay

7 miles

Do you have an aged vehicle or are you looking for second hand spare parts for your auto? We suggest to approach this junk yard, since it owns a huge stock. More info: They're open from Monday to Friday.Additionally, you may read 1 reviews left by our visitors.

9

9. Daniels Auto Parts

3504 Washington Blvd, Halethorpe

8.6 miles

Users can visit this wrecking yard in the proximity of the town of Halethorpe (Maryland). Its central business area is the distribution of auto pieces with the lowest prices in the surroundings and with all the warranties that you could require. If you want to get in touch with them, you can achieve this this way: phone.

10

10. Converter King of Md

76 Alco Pl, Halethorpe

8.6 miles

Neighbors of the Halethorpe neighborhood have the possibility to obtain a gargantuan catalog of second-hand spare parts compatible with their autos in this junk yard. You can contact them using: phone. They are open Monday to Friday.