Last update on December 29, 2015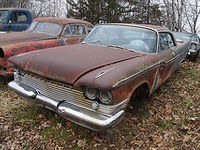 In the vicinity of Legal (Alberta) is stablished this wrecking yard, which is ideal for owners looking to acquire the best second-hand spares for their autos, but without having to spend large amounts of dollars. Here you will be able to purchase truck parts without giving up the best guarantees in the sector and efficient customer service. In case you need to get in touch with them, you can do so: phone, tollfree and email. Detailed info: The Badger Truck Parts operating schedule info is not included so far, despite this you can browse its web.
What they do:
truck parts
Site 16, Comp 6, Legal, AB (Zipcode: T0G 1L0)
Business Hours
Badger Truck Parts Comments
Place here your review below!
Need used parts? Submit your parts request for a quote
Improve your sales with us!
More than 1,000,000 monthly visitors
There exist a huge diversity of makes and models for sale, so there is a possibility that you won't locate the second-hand parts you are looking for in this salvage yard, regardless of its deep catalogue. Don't worry, we've already thought about that and retrieved other centers for you in the area.
This listing (which is sorted from nearest to furthest) delivers more junk yards near the vicinity of Legal (Alberta):