Last update on December 29, 2015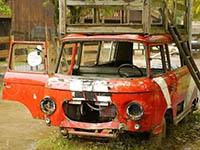 Placed close to the vicinity of Richmond (British Columbia), this business is offering car parts to its eventual clients. In order to ask about any second-hand parts, estimated junk car value, purchase or sell scrap cars, please contact them by phone. The Atlas Auto Wrecking opening schedule info is not included yet.
Their business model:
car parts
Canada, British Columbia, Richmond
12771 Mitchell Road, Richmond, BC (Zipcode: V6V 1M8)
Business Hours
Atlas Auto Wrecking Comments
Leave your comments below!
Need used parts? Submit your parts request for a quote
Improve your sales with us!
More than 1,000,000 monthly visitors
There exist a massive assortment of makes and models for sale, so there's a possibility that you won't find the second-hand spares you're looking for in this wrecking yard, regardless of its impressive inventory. Don't worry, we've thought of everything and retrieved other centers for you nearby.
This listing (which is arranged from closest to farthest) delivers additional wrecking yards in the neighborhood of Richmond (British Columbia):