Last update on December 29, 2015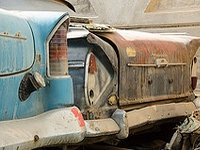 If you are aimed to look for second-hand spares compatible with your auto at the best prices and with the expected guarantees in the surroundings of Langley (British Columbia), this junkyard certainly provides what you need. Its business model targets on the distribution of car parts and scrap metal, always with the most rigorous quality supervision. You can additionally inquire them if you need a quote for your second-hand vehicle or if you are looking to buy an used vehicle at a good price. It is viable to contact them by these methods: email or phone. More information: The K & G Auto Recycling opening schedule information is not available yet, despite this you can see its web.
What they sell:
scrap metal car parts
Canada, British Columbia, Langley
20132 Industrial Ave., Langley, BC (Zipcode: V3A 4K7)
Operating Hours
K & G Auto Recycling Reviews
Leave your comments here!
Need used parts? Submit your parts request for a quote
Improve your sales with us!
More than 1,000,000 monthly visitors
This section pretends to offer you a little more, apart from the contact information related to this salvage yard. We try to show our users additional search possibilities so that you can find your second hand spares as soon as possible. This list is organized from nearest to furthest from this city.
Find under these lines additional salvage yards near the vicinity of Langley (British Columbia):
1

1. Dharney's Salvage Enterprises

23360 Fraser Hwy, RR#3, Langley

Are you the owner of an old vehicle or are you trying hard to locate second hand spare parts for your automobile? This directory recommend a visit to this junkyard, since it owns a huge stock. In addition, you may check 1 opinions left by our visitors.

2

2. Gateway Auto Wrecking

5660 - 198th Street, Langley

The perfect method to economize hundreds of dollars on second-hand pieces suitable for your auto is to contact a salvage yard and this is a great option close to the Langley area.

3

3. Action Auto Wrecking

10559 -120th St., Surrey

7.5 miles

It's easy to economize a lot of money on the reparation of your prized auto by buying second hand spares with guarantee in this prominent in Surrey area wrecking yard.

4

4. Als Auto Wrecking Ltd.

12123 103a Avenue, Surrey

7.5 miles

Buyers have the possibility to visit the attentive owners of this junkyard by these methods: phone. In case you want to obtain high quality vehicle parts in the municipality of Surrey (British Columbia), they are an inescapable option. Additional information: This salvage yard operational hours info does not appear in our database, however, you have the option to visit its website.

5

5. Pro Auto Recyclers of Surrey

10645-120th St., Surrey

7.5 miles

Do you have sleeping in the garage a decrepit vehicle or are you looking for used pieces compatible with your automobile? We recommend to approach this junkyard, since it owns a vast inventory. Additional info: They're open from Monday to Friday.

6

6. Maple Ridge Auto Parts Ltd.

23398 Fisherman Road, Maple Ridge

8.6 miles open now

Do you have an aged car or are you immersed in the search of used spare parts compatible with your auto? This site recommend to approach this business, since it has a wide stock. The Maple Ridge Auto Parts Ltd. is open Monday to Saturday.

7

7. Aldergrove Auto Wrecking

27820 Swenson St., Aldergrove

9.3 miles

The proper method to economize hundreds of dollars on used pieces suitable for your car is to contact a junkyard and this is an outstanding option close to the Aldergrove neighborhood. Other customers have left 1 opinions about this business.

8

8. John's Auto Parts

Blaine

12.1 miles

Interested users can talk with the welcoming owners of this salvage yard using these means: email, phone or tollfree. In order to get high quality auto pieces in the town of Blaine (Minnesota), they are an ineludible pick.

9

9. Stave Falls Auto Wrecking

29989 Dewndney Truck Rd, Mission

16.3 miles

Visitors have the opportunity to locate this junk yard close to the surroundings of the municipality of Mission (British Columbia). Its main business area is the distribution of auto parts with the most incredible prices in the surroundings but without giving up all the guarantees that you could request. In case you want to contact them, you can achieve it this way: phone. Other visitors have left 1 opinions about this salvage yard.

10

10. Reids Auto Recycling Ltd.

6064 Trapp Avenue, Burnaby

17.5 miles

You can avoid wasting a lot of money on the maintenance of your beloved car by acquiring second hand parts without giving up the necessary warranties in this well-known in Burnaby vicinity junk yard.