All Hours Auto Salvage

JunkYard
Nampa, Idaho
Want to ADVERTISE this business?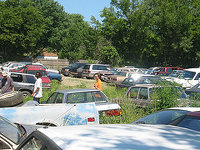 This wrecking yard located in the area of Nampa (Idaho), provides car parts or scrap metal to its customers. To inquire about any second-hand pieces, estimated junk car value, get money for junk cars or junk cars for sale, you can get in touch with them via phone. The All Hours Auto Salvage opening schedule information is not present so far, despite this you can check its website.
What you can find: scrap metal car parts
USA, Idaho, Canyon, Nampa
3110 Caldwell Blvd, Nampa, ID (Zipcode: 83651)
All Hours Auto Salvage Schedule
All Hours Auto Salvage Reviews
Place here your opinion! Review All Hours Auto Salvage now
---
Junkyards near Nampa
Review this list for more salvage yards in the surroundings of Nampa (Idaho):