Buy Rite Auto Salvage

JunkYard
Nampa, Idaho
Want to ADVERTISE this business?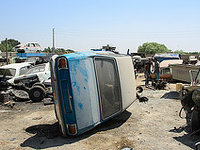 Users who are looking for businesses focused on the distribution of scrap metal and car parts in the vicinity of Nampa (Idaho), here they have an option that won't deceive. They are professionals who deeply review the junk auto spares they distribute and provide the most complete warranties, so you can buy them with total tranquility. In case you want to get in touch with them, you can do so: phone. Additional information: The Buy Rite Auto Salvage business hours info is not included so far, however, you can see its web.
What you can find: scrap metal car parts
USA, Idaho, Canyon, Nampa
272 Caldwell Blvd, Nampa, ID (Zipcode: 83651)
Buy Rite Auto Salvage Schedule
Buy Rite Auto Salvage Reviews
Leave your opinion! Review Buy Rite Auto Salvage now
---
Junkyards near Nampa
Check this list for additional wrecking yards in the surroundings of Nampa (Idaho):