Alexanders Auto Parts

JunkYard
Flin Flon, Manitoba
Want to ADVERTISE this business?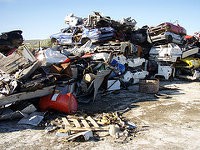 Visitors can visit this salvage yard in the area of Flin Flon (Manitoba). It offers car parts to its customers. If you need to ask about any used pieces, estimated junk car value, sell or buy junk car, you can get in touch with the business via tollfree or phone. The Alexanders Auto Parts business schedule info is not included yet.
What you can find: car parts
Canada, Manitoba, Flin Flon
P.O. Box 247, Flin Flon, MB (Zipcode: R8A 1M9)
Alexanders Auto Parts Schedule
Alexanders Auto Parts Reviews
Share your opinion! Review Alexanders Auto Parts now
Latest blog posts that may be of your interest
Junkyards near Flin Flon
Locate here more junk yards in the area of Flin Flon (Manitoba):
Closest Junk Yards to Flin Flon
Address