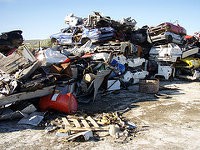 Interested parties have the possibility to access this junk yard near the surroundings of Flin Flon (Manitoba). This business offers car parts to its customers. If you are aimed to ask about any used pieces, estimated junk car value, trade or get a junk car, you can get in touch with the business via tollfree and phone. The Alexanders Auto Parts business schedule information is not included yet.
Canada, Manitoba, Flin Flon
MB-10 Alt, Flin Flon, MB R8A 1M9
Business Hours
Place here your review here!
Need used parts? Submit your parts request for a quote
This section wants to provide you a little more, as added to the contact info related to this junk yard. We try to show our visitors additional search options so that you can find the best used pieces in the shortest possible time. This list is organized from nearest to farthest from this city.
Locate under this text more junk yards in the vicinity of Flin Flon (Manitoba):
1

1. Alexanders Auto Parts

MB-10 Alt, Flin Flon, MB R8A 1M9

Purchasers have the opportunity to talk with the helpful professionals of this junkyard using these means: tollfree and phone. In order to purchase the best quality auto parts in the town of Flin Flon (Manitoba), they are an ineluctable election. This business has been rated 6 times by previous visitors.