Jensen's Auto Salvage

JunkYard
Saskatchewan, Saskatchewan
Want to ADVERTISE this business?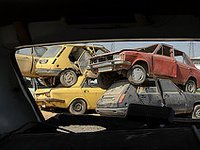 In the surroundings of Saskatchewan (Saskatchewan) is situated this business, which is superb for owners looking to buy the finest second-hand pieces for their cars, but without having to spend excessive money. There you will be able to find car parts with the best warranties in the sector and great customer service. If you need to contact them, you can do so: email or phone. Additional info: The Jensen's Auto Salvage business hours info is not included so far.
What you can find: car parts
Canada, Saskatchewan, Saskatchewan
Webb, Saskatchewan, SK (Zipcode: S0N 2X0)
Jensen's Auto Salvage Schedule
Jensen's Auto Salvage Reviews
Share your opinion! Review Jensen's Auto Salvage now
Latest blog posts that may be of your interest
Junkyards near Saskatchewan
This list offers additional salvage yards in the vicinity of Saskatchewan (Saskatchewan):
Closest Junk Yards to Saskatchewan
Address
Hwy 2 North Pine Village, Prince Albert
They offer a very qualified service at lower prices, with a huge variety of inventory and with the guarantees demanded by its clients. You can locate this salvage yard in the town of Prince Albert (Saskatchewan). Additional info: The Red Wing Auto Recyclers business schedule information is not present so far.