Last update on December 29, 2015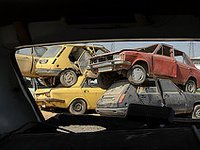 Close to the surroundings of Saskatchewan (Saskatchewan) is situated this junk yard, which is a good match for owners looking to buy the best second-hand pieces which can fit their vehicles, but without having to invest too much dollars. There you´ll be able to find car parts with the expected warranties of the market and excellent customer attention. In case you want to contact them, you can do so: email or phone. More information: The Jensen's Auto Salvage timetable info isn't present yet.
What they sell:
car parts
Canada, Saskatchewan, Saskatchewan
Webb, Saskatchewan, SK (Zipcode: S0N 2X0)
Business Hours
If you're thinking about getting rid of your car to a junkyard in Saskatchewan, SK, you have several options to pick from.
To quickly receive a fair offer, get in touch with us at 1-833-693-5944 or fill out our easy-to-use

online form

. Many businesses may have interest in your used auto, so you'll certainly get the most money possible.
In order to maximize the profit of your car, take into account selling its individual spares separately through a classified listing. By placing an ad, you can tap into your vehicle's full potential and entice buyers who are especially interested in your components.
Presented below is a detailed list of the closest vehicle junkyards. Spend some time to examine the list and make personal contact with each one.
Jensen's Auto Salvage Reviews
Need used parts? Submit your parts request for a quote
Improve your sales with us!
More than 1,000,000 monthly visitors
There's a huge assortment of makes and models for sale, so there is a possibility that you will not find the junk spare parts you're looking for in this salvage yard, regardless of its impressive inventory. Don't worry, we've already thought about that and gathered other businesses for you in the area.
This list (which is sorted from nearest to farthest) contains additional salvage yards near the surroundings of Saskatchewan (Saskatchewan):
1

1. Red Wing Auto Recyclers

Hwy 2 North Pine Village, Prince Albert

56.1 miles

Customers can reach the attentive owners of this junk yard by this way: email and phone. If you want to obtain the best quality vehicle spares in the town of Prince Albert (Saskatchewan), they are an ineludible option.