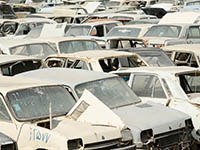 Visitors who are interested in salvage yards dedicated to the distribution of in the area of Yorkton (Saskatchewan), here they´ve a choice that won't deceive. These are specialists who deeply review the second-hand vehicle spare parts they sell and offer the expected guarantees, so you can purchase them with absolute security. In case you are aimed to contact them, you can do so: tollfree or phone. More information: The SGI Yorkton Salvage opening schedule information isn't available so far.
salvage yard
used auto parts
Canada, Saskatchewan, Yorkton
245 York Rd E, Yorkton, SK S3N 3N2
Operating Hours
Leave your comments here!
Need used parts? Submit your parts request for a quote
New blog posts that may be of your interest
We could not call ourselves the finest junk yard repository on internet for the U.S. if we didn't offer you some extra components to assist you in your search for junk spare parts.
Browse this list (which is sorted from nearest to farthest) for more junkyards close to the area of Yorkton (Saskatchewan).
1

1. SGI Yorkton Salvage

245 York Rd E, Yorkton, SK S3N 3N2

salvage yard

used auto parts

Do you own an aged vehicle or are you aimed to find used spare parts suitable for your vehicle? This directory recommend a visit to this salvage yard in Yorkton, since it gathers a vast catalog. Other visitors have left 3 reviews about this company.

2

2. J K Metals

SK-201, Broadview, SK S0G 0K0

42.6 miles

Purchasers have the possibility to locate the welcoming professionals of this junkyard by this way: phone. In order to obtain the best quality vehicle pieces in the town of Broadview (Saskatchewan), they are an ineludible choice. Additionally, you can check 1 reviews in order to know more about this business.

3

3. Preeceville Salvage Inc

Hwy 49 West, Preeceville, SK S0A 3B0

51.4 miles

Citizens of the Preeceville neighborhood have the possibility to buy an enormous catalog of second hand spare-parts for their autos in this salvage yard. You can get in touch with them using: phone. This salvage yard has been voted 2 times by our users.

4

4. Elfros Autowreckers 07

McMillan St, Elfros, SK S0A 0V0

83.1 miles

auto wrecker

used auto parts

Do you have an aged auto or are you immersed in the search of second-hand spares for your auto? This directory recommend to approach this junkyard in Elfros, since it delivers an extensive supply. Other visitors have left 3 thoughts about this salvage yard.