Last update on December 29, 2015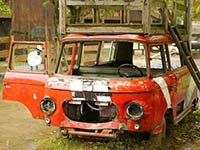 Situated close to the municipality of Regina (Saskatchewan), this business is offering to its potential visitors. If you are aimed to inquire about any used pieces, estimated junk car value, get cash for junk cars or scrap autos for sale, you can contact them via phone and tollfree. The SGI Salvage Head Office opening schedule info is not offered yet.
What you can buy:
Canada, Saskatchewan, Regina
2260 11th Avenue, Regina, SK (Zipcode: S4P OJ9)
Business Hours
Want to sell your junk car for cash?
If you need to swiftly sell your pre-owned auto and receive top dollar cash for it, in that case you have arrived at the right spot.
Complete the step-by-step form in under 2 minutes by providing the details about your vehicle.
Receive the purchase offer for your vehicle right away and with no obligation. Discover the amount you will receive for your car.
Get immediate payment and enjoy the ease of free towing service. Get rid of your car without worries, as it will be collected from anywhere at no additional cost.
SGI Salvage Head Office Comments
Share your comments below!
Need used parts? Submit your parts request for a quote
Improve your sales with us!
More than 1,000,000 monthly visitors
New blog posts that may be of your interest
There exist a massive mixture of makes and models for sale, so there is a probability that you won't locate the used parts you're looking for in this junkyard, regardless of its deep catalogue. Don't worry, we have thought of everything and found other recyclers for you in the area.
This list (which is organized from nearest to farthest) contains additional salvage yards close to the surroundings of Regina (Saskatchewan):
1

1. All Parts Automotive

Highway 6 North, Regina

Are you the owner of a junk car or are you looking for second hand parts suitable for your automobile? We suggest a visit to this wrecking yard, since it owns a huge stock. Additional info: The All Parts Automotive is open Monday to Friday.In addition, you may check 1 opinions left by our visitors.

2

2. SGI Regina Salvage

460 Fleet Street, Regina

Interested users can visit this wrecking yard near the vicinity of the municipality of Regina (Saskatchewan). Its central business model is the distribution of auto parts with the lowest prices in the state and providing all the warranties that you could require. If you need to get in touch with them, you can achieve it by these means: phone and tollfree.

3

3. SGI Moose Jaw Salvage

320 North Service Road, Moose Jaw

40.5 miles

Do you own an old vehicle or are you immersed in the search of cheap pieces suitable for your auto? This site recommend to approach this business, since it owns a huge catalog.

4

4. TopLine Salvage

Box 1541, Moose Jaw

40.5 miles

This wrecking yard settled close to the town of Moose Jaw (Saskatchewan), distributes an highly efficient service to its clients, with excellent discounts but without giving up the best quality and an immense breadth of supply.

5

5. Southside Auto Wreckers

Box 1256 - Highway #39 East, Weyburn

63.9 miles

This salvage yard aims to distribute a very proficient assistance at incredible prices, gathering an immense variety of catalog and with the guarantees expected by its buyers. Visitors have the opportunity to reach this business in the city of Weyburn (Saskatchewan).

6

6. Dale and Lisa's Farm & Auto

Box 245, Mossbank

69.6 miles

You can save hundreds of dollars on the maintenance of your well-liked car by acquiring junk parts without giving up the necessary warranties in this eminent in Mossbank surroundings junk yard.