Last update on December 29, 2015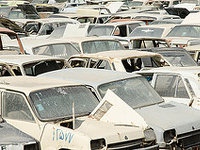 In the surroundings of Moose Jaw (Saskatchewan) is situated this junkyard, which is superb for owners aimed to buy the best second-hand pieces which can fit their cars, but without having to invest an excessive ammount of money. There you´ll be able to purchase without compromising the expected guarantees of the market and efficient customer attention. In case you need to contact them, you can do so: tollfree and phone. Detailed info: The SGI Moose Jaw Salvage opening schedule info isn't present yet.
What they do:
Canada, Saskatchewan, Moose Jaw
320 North Service Road, Moose Jaw, SK (Zipcode: S6H 4N9)
Operating Hours
SGI Moose Jaw Salvage Reviews
Share your comments below!
Need used parts? Submit your parts request for a quote
Improve your sales with us!
More than 1,000,000 monthly visitors
There exist a vast assortment of makes and models on the market, so there is a probability that you won't locate the second-hand parts you're looking for in this wrecking yard, regardless of its deep catalogue. Don't worry, we've thought of everything and retrieved other businesses for you nearby.
This listing (which is organized from closest to farthest) provides additional wrecking yards in the vicinity of Moose Jaw (Saskatchewan):
1

1. TopLine Salvage

Box 1541, Moose Jaw

This wrecking yard settled close to the town of Moose Jaw (Saskatchewan), distributes an highly efficient service to its clients, with excellent discounts but without giving up the best quality and an immense breadth of supply.

2

2. Dale and Lisa's Farm & Auto

Box 245, Mossbank

60.4 miles

You can save hundreds of dollars on the maintenance of your well-liked car by acquiring junk parts without giving up the necessary warranties in this eminent in Mossbank surroundings junk yard.

3

3. All Parts Automotive

Highway 6 North, Regina

65.2 miles

Are you the owner of a junk car or are you looking for second hand parts suitable for your automobile? We suggest a visit to this wrecking yard, since it owns a huge stock. Additional info: The All Parts Automotive is open Monday to Friday.In addition, you may check 1 opinions left by our visitors.

4

4. SGI Regina Salvage

460 Fleet Street, Regina

65.2 miles

Interested users can visit this wrecking yard near the vicinity of the municipality of Regina (Saskatchewan). Its central business model is the distribution of auto parts with the lowest prices in the state and providing all the warranties that you could require. If you need to get in touch with them, you can achieve it by these means: phone and tollfree.

5

5. SGI Salvage Head Office

2260 11th Avenue, Regina

65.2 miles

The best technique to economize large amounts of money on spare pieces suitable for your car is by visiting a junk yard and this is an outstanding pick in the Regina neighborhood.